I chose the Des News half mostly because Dustin was running the full and last year I raced the Des News 10k and had a great experience. It was well organized and good competition. This was my first time doing the half.
The race started at 6:00, but the buses loaded between 4:15am and 4:45am to take everyone up to the starting line. I woke up at 3 am and met Alison to drive up. As we were driving up, I kept looking at the temperature outside. The closer we got to Salt Lake City, the higher it rose. It settled at 83 degrees when I left the car to get on the bus. This had me a little worried. I knew it would be cooler up the canyon, but there was still plenty of running out of the canyon. Alison was nice enough to drop me off near the buses and then she headed to the finish line to cheer later.
The bus ride up was fairly short. They had nice coach buses instead of school buses, which were much more comfortable. I had a nice chat with the person sitting next to me. He was on a training plan where he only ran three times a week. Well that sounds nice. The bus driver got lost a few times until someone started yelling from the back of the bus where he needed to go.
There were plenty of people already at the starting line. This year there were over 750 finishers in the half marathon. My first thought getting off the bus was to get to the bathroom lines. Luckily, we still had 45 minutes till the race started. I got in a line of about six people, but I ended up waiting at least 25 minutes for the bathroom. Me and the guy next to me were wondering what in the world was going on when a guy took like 10-15 min in the bathroom. Luckily, he eventually came out.
After that, I headed for a small warmup- just a mile. It was really warm up the canyon. My throat was already a little bit dry. I ran into some speedy girls I knew and asked for some water. They didn't have any, so I asked a random stranger if I could have a drink of his. Why not. About 15 minutes before the race, I took a Maurten gel. I did a few dynamic drills and then headed further past the start line to do a couple strides. I immediately saw a fast girl who I recognized as Sarah Sellers (the Utah native who took second in the Boston Marathon a couple years ago). DARN IT! I was willing to bet she'd be first (which she was in a 1:13). There were a few other speedy looking girls, but I didn't recognize anyone else.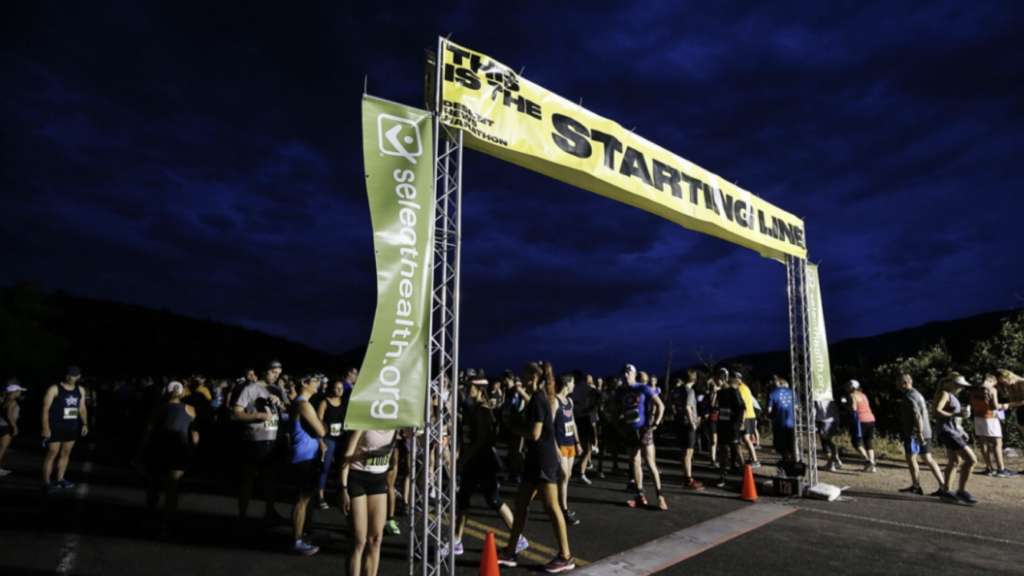 Just before the race started, the announcer welcomed Sarah as being a part of the race as well as one other and then it was a 10 second count down and we were off.
The first mile is the steepest mile (-215). You literally just drop down the canyon. I have not done steep downhill like that in a very very long time. It was really fun. Sarah took off so fast. There were about 20 guys in front of me along with her and another girl. The other girl was in pink. I didn't recognize her from the back. I kept an eye on her for a few miles, but she pulled out of my view later in the race (I knew her after the fact). I came through the first mile in a 5:40. That was the split I hoped for. I wanted to run as relaxed as possible.
The second mile was just cruising as well. I didn't really love the road in the canyon. The sides were really steep and if you weren't running exactly in the middle, then you were running on a slant. 5:48 second mile. Great. I wanted to hang around 5:50 as long as I could. Mile 3 was 5:51. We hit a water stop after just a few miles. I didn't take any water, but it was fun to see the missionaries for the Church helping out at the aid stations. They were dressed up nice and super encouraging.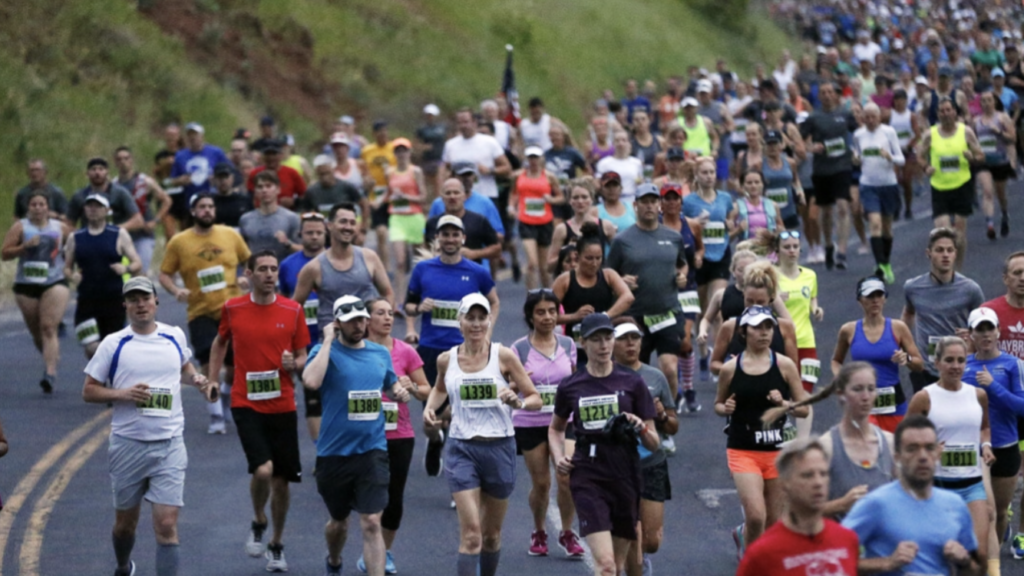 Even though it was really hot, there was a cloud cover. The sun never really came beating down. Mile 4 and 5 were 5:51 and 5:52. I felt so relaxed. I was really enjoying myself. I started to wonder what was happening behind me though. I knew there were some other fast girls in this race, and for all I knew they were just a few strides behind. The main thought that kept running through my head was "just run your race" and that's what I did. There were a couple cars that came down the canyon at this point and I had to move to the side. I was wondering where they came from because I thought the canyon was closed. Mile 6 was a 5:51. I started feeling a little fatigue, but not much. The more I relaxed my stride, the easier it felt. I took a Maurten gel at this mile and some of it accidentally went down the wrong way. I was hacking and coughing for a bit, but eventually got it under control.
Mile 7 is where I exited the canyon (5:48). There's a nice drop and then a decent climb towards the end of this mile. You cross the main road and there was a car right in my way. I actually yelled for him to get out of my way as the cops weren't paying much attention. I had to move around it. As we were climbing up the hill, I came up on a guy in black. He did not want me there and made a huge surge. It cracked me up. I told myself I would get him eventually.
Mile 8 is one of the harder miles. There is a big climb in the middle of it and it's hard to get the body moving up after all the down. I was mentally ready for it. It was lined with cones all along the way about 30 meters apart, or so. I had little motivators to get to each cone and break up the climb. Once we got to the top, I got back in cruise mode. Mile 8 was a 6:12.
There was a nice drop after the big climb. I just started cruising and I felt amazing. It felt so effortless. I remember thinking that I couldn't believe I only had a little over 4 miles to go (Mile 9 was a 5:48). I came up on the guy in black and passed him. He didn't fight back this time. As I'm cruising down the hill, I see the Trax (train). It's at the station just to the right up ahead. The lights are starting to flash and the barriers are coming down. I realize I don't have time to cross before it goes, but I'm willing in my mind for it to leave the station faster. It does not. There's a cop standing there that brings me to a stop. I stood there while the train slowly left the station and crossed in front of me. It was absolutely maddening!!! Guy in black catches up to me at this point and I laugh when he stops his watch when he has to wait as well. I don't know how many seconds I lost at this point, but I feel like it had to be at least 15.
Once I started running again, I didn't have the same magic in my legs. I felt okay, but not great. I came through 10 miles with a 6:11 (this included the stop at the Trax). There was another hill after the stop at the train that I forgot about. Dang it. I didn't feel as motivated to climb up this one. We started to get more into the city and into the crowds. As I was getting into mile 11 I see hundreds of people turning the corner. It was like a sea of bright green shirts with kids, adults, strollers, everything! The 5k was starting. What in the world! I moved to the outside and began to swerve through the masses of people. I passed someone I knew- they yelled good job. My legs started to feel like lead. Mile 11 was 6:02. I look down at my watch at the overall time and realize I'm not where I want to be for my goal. It took the wind out of my sails a bit.
Mile 12 really started to hurt. This was not a good sign as I know how hard the last mile and finishing stretch are in this race. I somewhat held it together with a 6:10, but I knew I wasn't feeling good. The last mile is a long stretch on the parade route. I distinctly remember last year that it smelled so bad and it was the same this year. Smoke and all sorts of other smells. My stomach started to turn really bad. I felt like I was in slow motion. I saw two fellow Runner's Corner teammates who had already finished their 10k and they cheered me on. I just focused on my form and not throwing up. 6:37 for mile 13. Yikes. I remember thinking with .4 to go- I better not get passed by 4th place girl because I'm not going to fight. Then with .2 to go it was- I will not let any girl pass me- I'm going to fight. The last bit is a climb with the clock in the distance. I hear people yelling my name. I feel terrible, but I pull a kick together.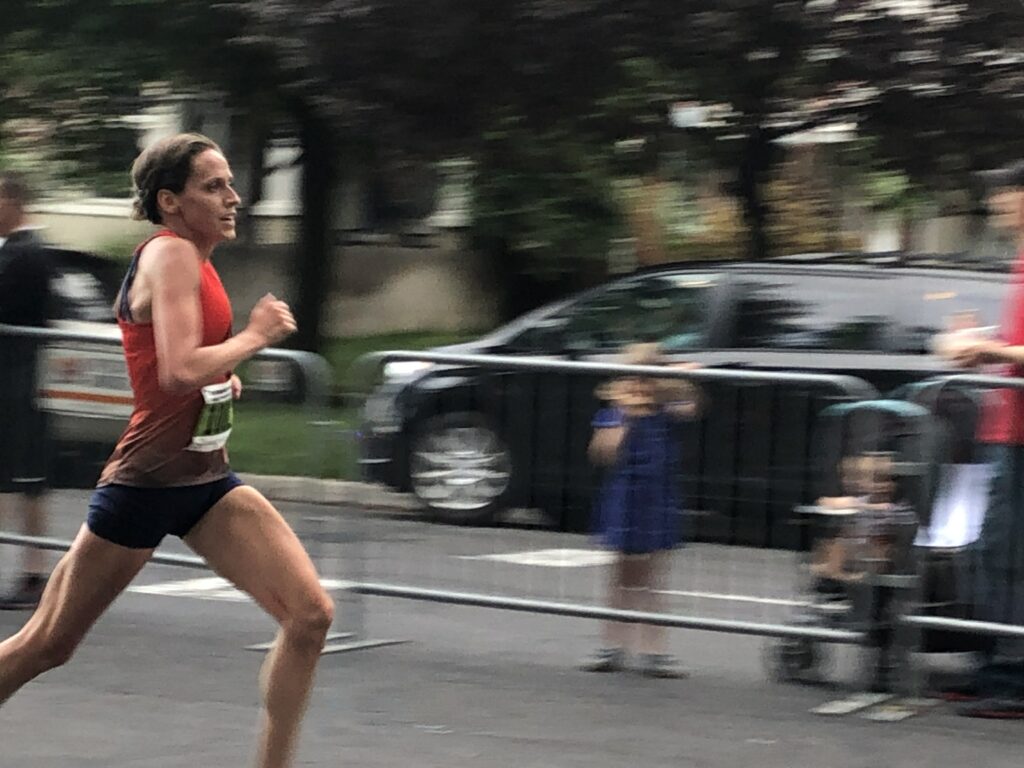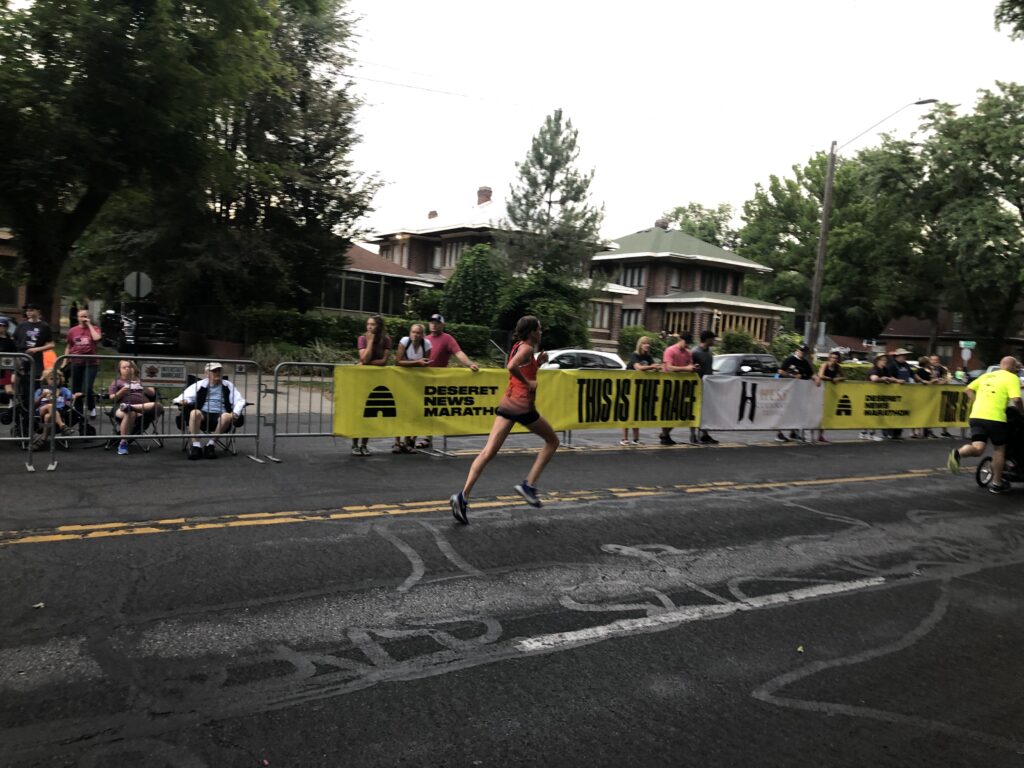 FINALLY I cross the finish line. Someone puts a medal around my neck. The announcer says my name. I am going to throw up. Garbage can anywhere? Nope- it's coming now. I walk maybe 15 feet from the finish line and puke my guts out. I completely empty my stomach. Wow. I feel amazing now. Let's DO IT AGAIN!!!!!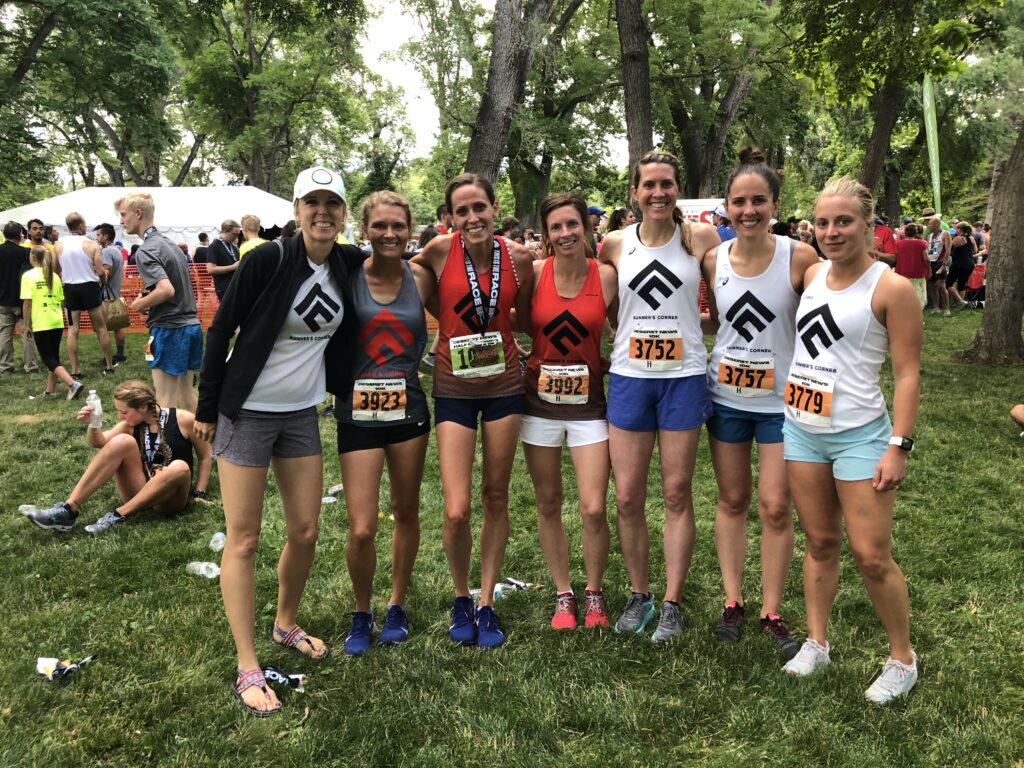 3rd female behind stellar competition (18th overall). 1:19:19. 4th female was 2 minutes behind me. I wish I knew that, but not knowing made me fight harder. Great group of Runner's Corner teammates at the end. A little bit of cash, an extra medal, and a soft blanket. It was a good day.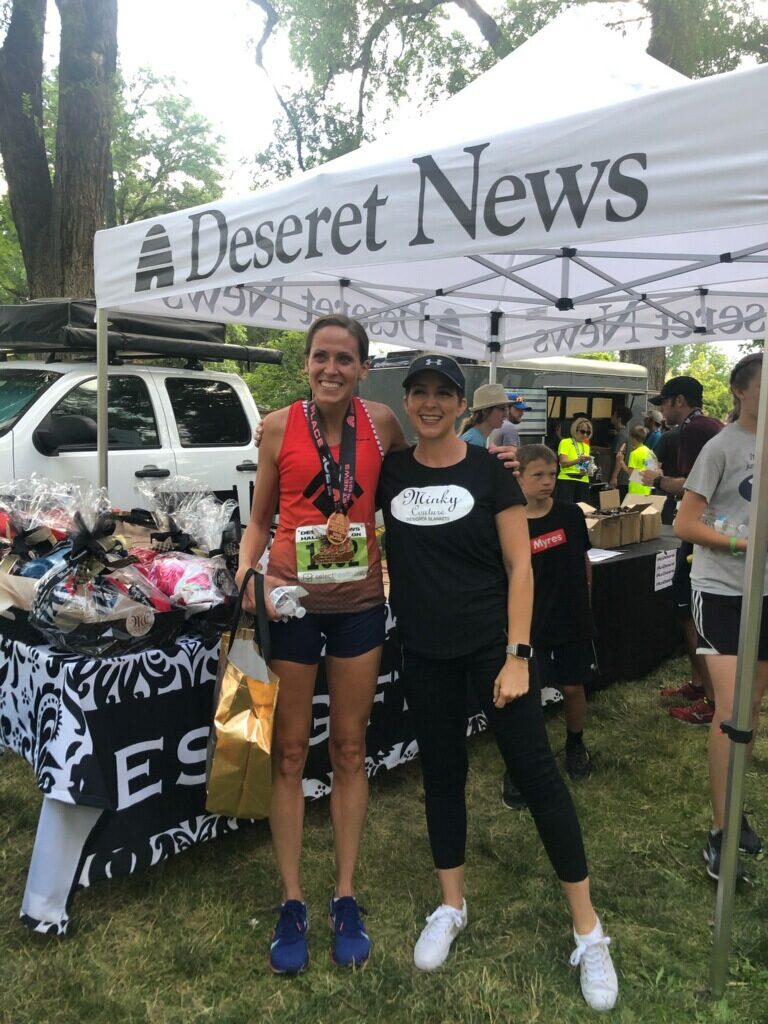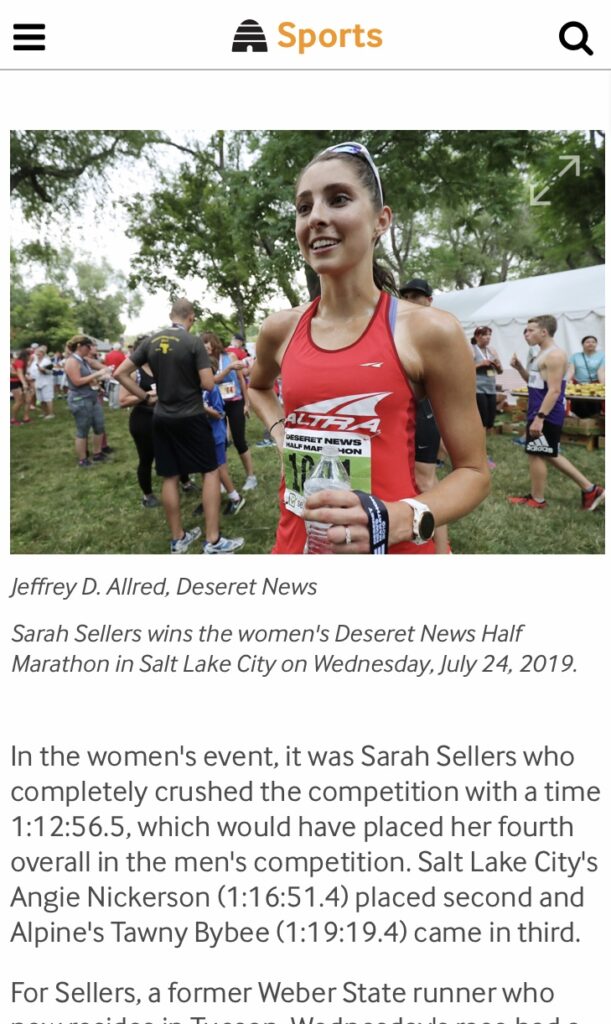 Dustin's Marathon Race Report
First marathon in two years and a needed Boston qualifier!
About 1.5 months ago, I was talking to a good buddy, Nate, about doing a marathon in July for a BQ. He needed a qualifier too and we began looking at a couple different marathons. We settled on the Deseret New Marathon. Not an easy course with 700 feet of climbing and a ton of descending that kills your legs, but it was the best timing.
We ended up having a good set up the night before. The marathon buses were leaving Salt Lake at around 3:00am for the starting line at the top of Big Mountain pass. My brother had a camper at East Canyon Resort, right down the hill from the start. So my buddy, Nate and I decided to sleep at the trailer. Instead of catching a bus at 3:00am, we woke up at 4:50, got ready, hit the bathroom, and drove up the hill to the starting line where we parked about 20 feet from the start.
We waited in line at the bathrooms for about 4 minutes, just enough time for me to scope out the competition. I wasn't going for the win or a top finish, but of course my competitive nature started eyeing the competition. I saw Jon Kotter, 4-time winner and a good friend of mine. I saw a few other dudes that looked decent who had a shot at the top 5. We finally got to the front of the line as I get in the bathroom, I hear the announcer say 3 minutes to start(perfect timing). Went back to the truck, dropped my gear and as we were walking to the starting line the gun went off.
We started descending a long 4 miles of about -200 drop per mile…Super rough on the legs and by the bottom of the hills I had to pee. I guess all the jarring downhill made me need to go. I stopped at mile 5 for a quick pit stop and told Nate to continue and I would catch him. We had pace bands for a 3:02 exactly and we were doing a good job hitting each mile close to right on. We wanted to do the least amount of effort possible to get qualified. As we climbed up immigration Canyon, I could tell Nate's stomach wasn't feeling great. He dry heaved a few times and things weren't settled. I was determined to stay with him through halfway. We talked about how marathons cycle- sometimes you just don't feel good, but a few miles later you can work it through and be feeling fine and ready to fight again. So we stayed together in hopes that his stomach issues who go away and we could continue at our goal of a 3:02 BQ.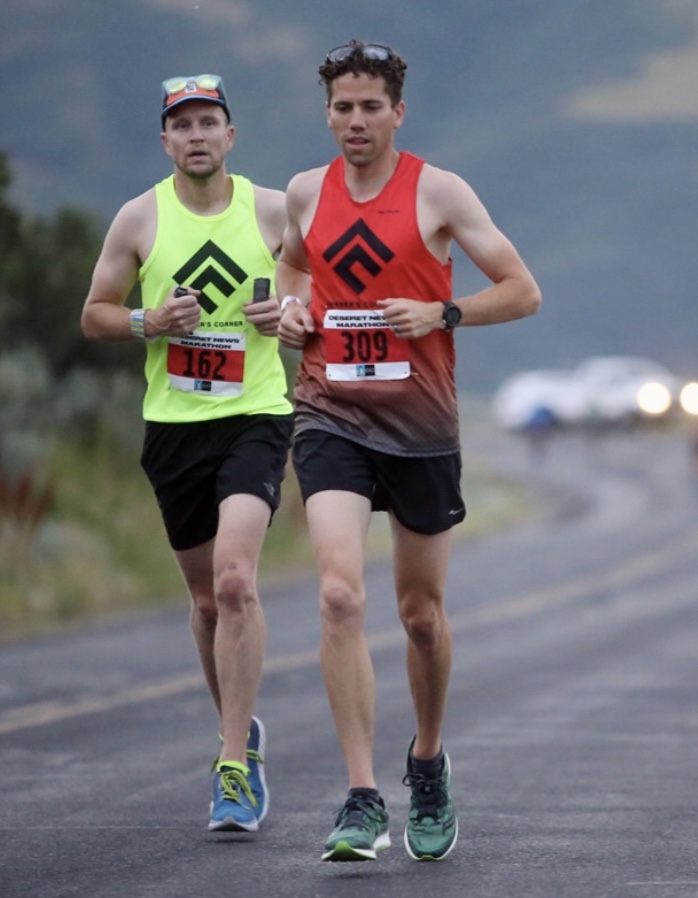 By halfway, his stomach was still bothering him and we were about 2:35 behind out goal pace of 3:02. It was time to go or miss qualifying. Nate kept trekking hard and I decided to surge a little. I was feeling fine, the body was relaxed, fueling was going well and I was getting plenty of water. I dropped down in the 6:20's knowing I need to make up some time. I keep moving faster and had to hold myself back. There was still a lot of race to go and my endurance is not great yet, as there is still some work to do. I kept on my nutrition plan of a Maurten gel every 30 minutes. At 2 hours I popped my 4th gel and somehow I sucked some down my air way and it threw me right into a coughing fit. I couldn't breath, I was forced to stop, double over and try and clear it out! It took about 20 seconds of wheezing, but I was able to clear it through and started again. I remember saying to myself, well that was super weird, but whatever, let's get back on track.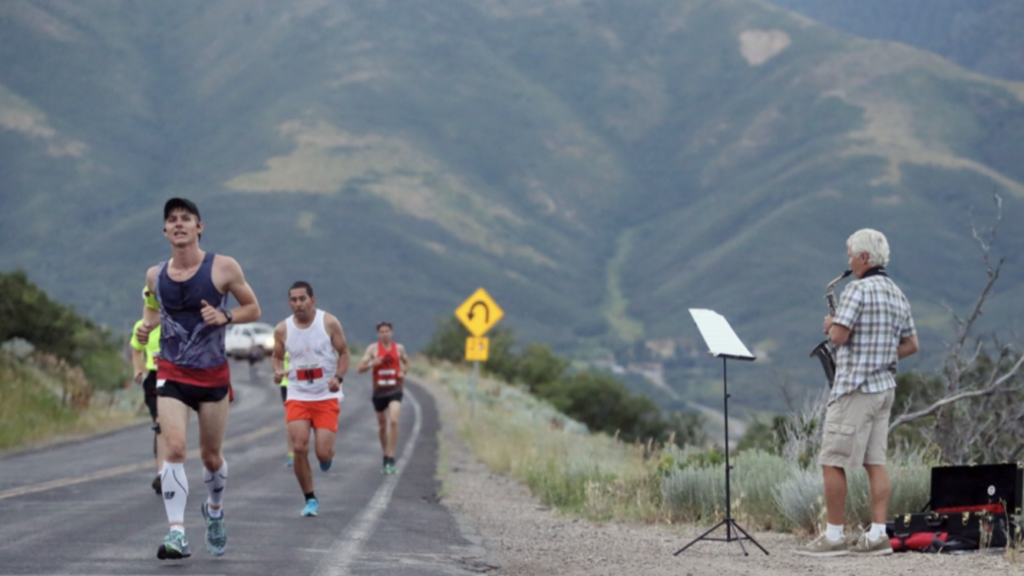 By now I was cruising down 13th east with about 7 miles to go. It was a big long straightaway and I was still feeling pretty good working with those around me, mostly half marathoners now. I could look down the line of bodies and pick out the marathoner dudes that were coming back to me…I just kept picking them off. With about 3 miles to go, I chuckled a bit seeing a dude in short shorts and no shirt. I had seen him at the start and pegged him as a "contender". He just looked fit and of course starting with no shirt on made him look somewhat intimidating….(Insert silly face), Naturally I had to pass him with a little pep in my step and a quick thumbs up!
My mind was positive and I was talking to myself the entire second half, trying to do math in my head to make sure I kept it easy, but making sure I didn't miss qualifying. Mile 23 still felt controlled. It was getting harder, but felt controlled. Mile 24 felt about the same, but for some reason mile 25 got hard. I thought the parade route was going to lift me up a bit, but it didn't. It was kind of annoying dodging people. I just wanted to go back inside my head of self talk. I knew I was on pace and kept cranking through.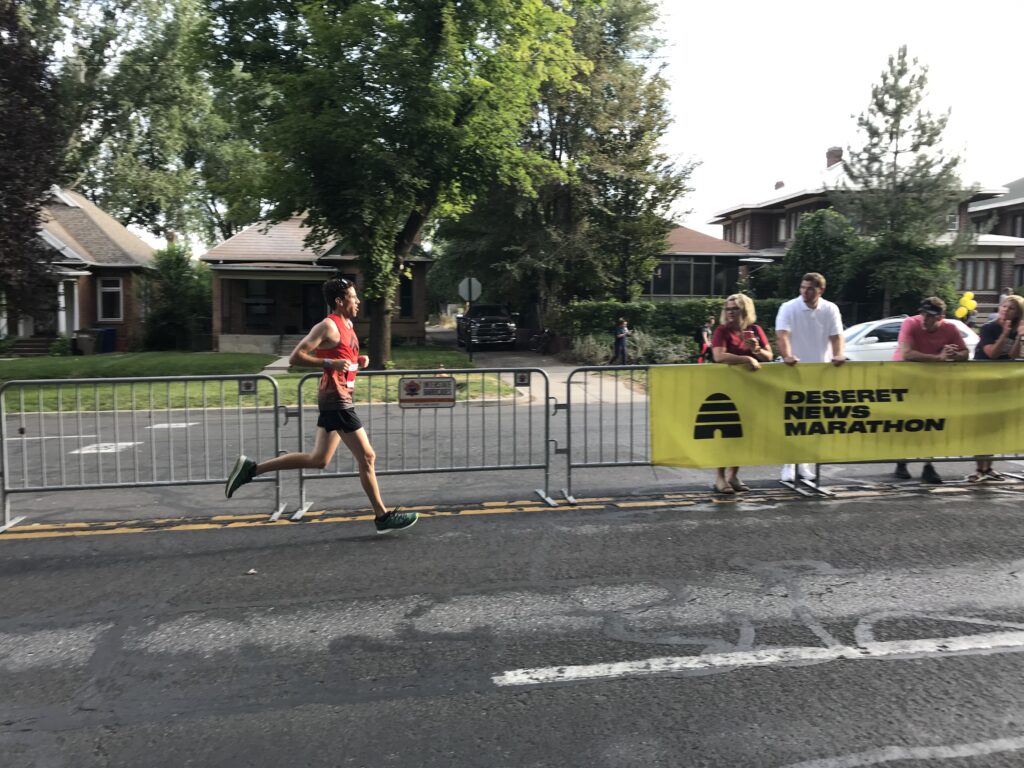 I turned up to the finish line and decided not to surge. I knew it would be a BQ and the body was holding together, the two things I had hoped to happen. I just wanted to stay healthy so I can keep the training going and set myself up for a fast fall marathon. I saw Tawny with about 200 to go and it made me smile. I saw the clock by then and it was about 2:59.30 and I was just watching the time clip off and knew I would be under 3:00, which I was happy with for the day. I unexpectedly ended up 6th overall and first in my age group. Thanks to Bob Wood and the crew for putting on a great event on a Utah holiday.