It's been no secret that I've had a goal to break 2:45 in the marathon and qualify for the olympic trials. It's been on my mind for a long time and the last several months have been dedicated to that goal. I chose Grandma's Marathon because I prefer to race on a Saturday and I had heard really great things about it. It looked like a fast course on paper and a perfect time of year.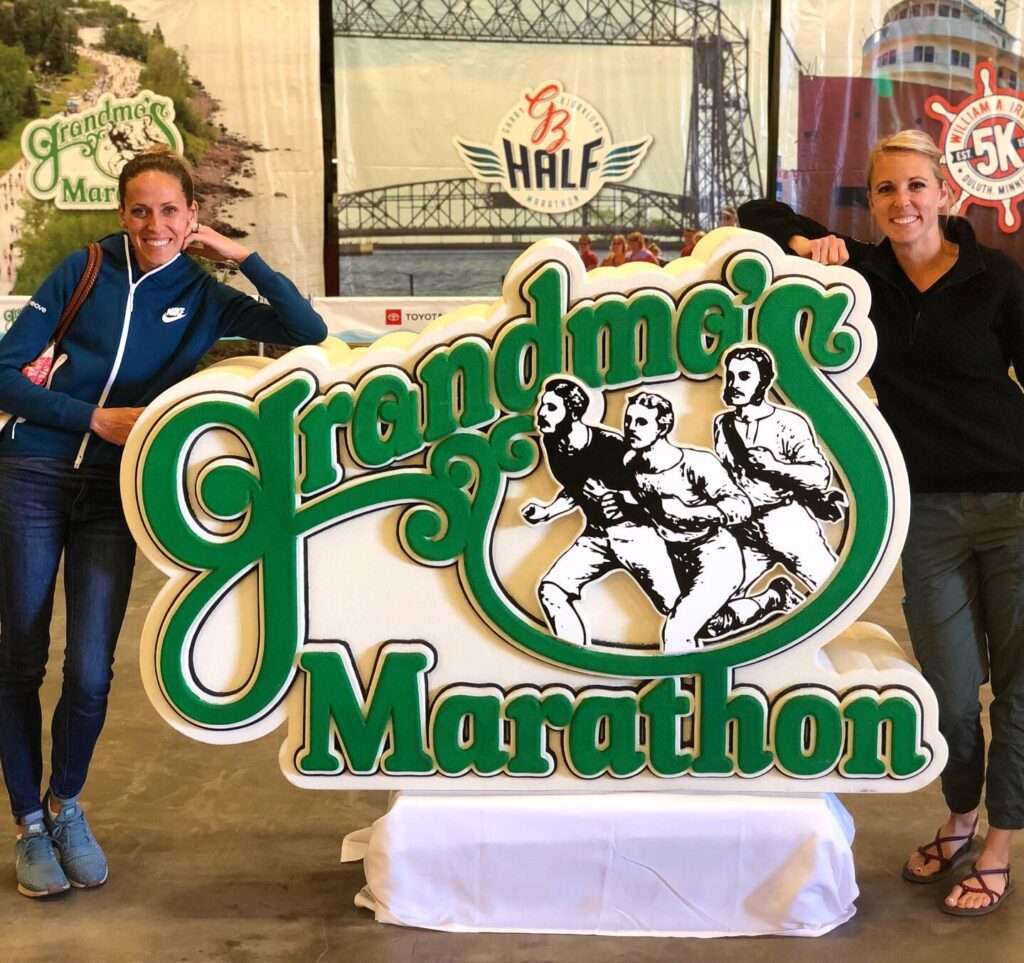 Luckily, I was able to get an elite entry. I registered early. Come to find out, they had so many people trying to get into the elite section that they had to turn a bunch of people away. They turned away people who were faster than me. My 1:18 half marathon was good enough to get an elite entry, but not good enough to get bottles on the course. I was frustrated about that at first, but then I realized that carrying it wasn't too big of a deal. Especially with my Senita shorts and all the pockets.
Training was going really well until about 9-10 weeks till the marathon. I hit a bump in the road and had some problems with my back and then my calf. My training suffered for about 3 weeks, but I got fixed up and jumped back into it. Everything was back on track within a couple more weeks.
We flew out to Duluth, MN early Thursday morning. I was flying out with my husband, Dustin, and Alison and her husband. We got in, checked into our hotel, and went straight to the course to do 5 miles and check it out. Legs felt pretty good and the course was beautiful. Coming from 5,000ft elevation, I could feel the extra oxygen in the air.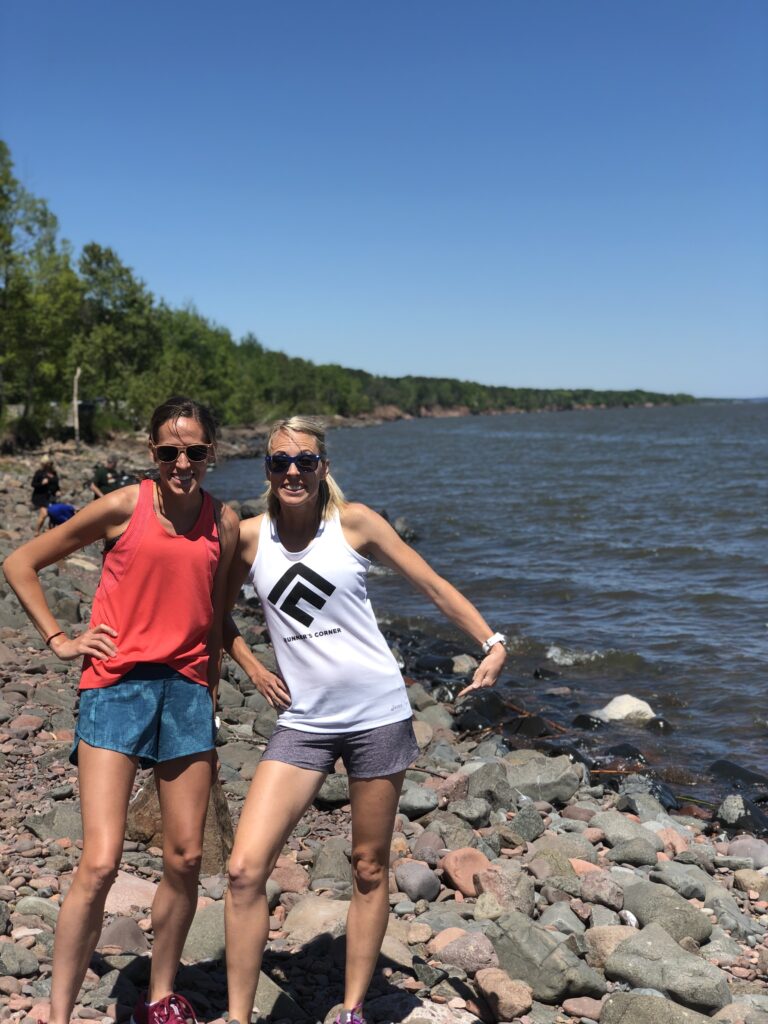 We were tracking the weather like crazy. For the 10 days leading up to the marathon, it looked like cool weather, rainy and overcast, with a tailwind. Perfect!! The day before we did a 3 mile shakeout and we could feel the wind blowing strong from the direction we wanted it to come from. We were pumped. It was going to be a great day. I hardly questioned whether I would qualify or not. I truly believed I was 100% ready to go.
The marathon started at 7:45. This is a later start time than I am used to. In Utah all the marathons start crazy early. We were able to get a reasonable amount of sleep with the later start time. I ate a couple homemade GF pancakes with peanut butter and honey soon after I woke up. I then sipped Maurten 320 throughout the morning. Our hotel had a bus that picked us up right in the parking lot.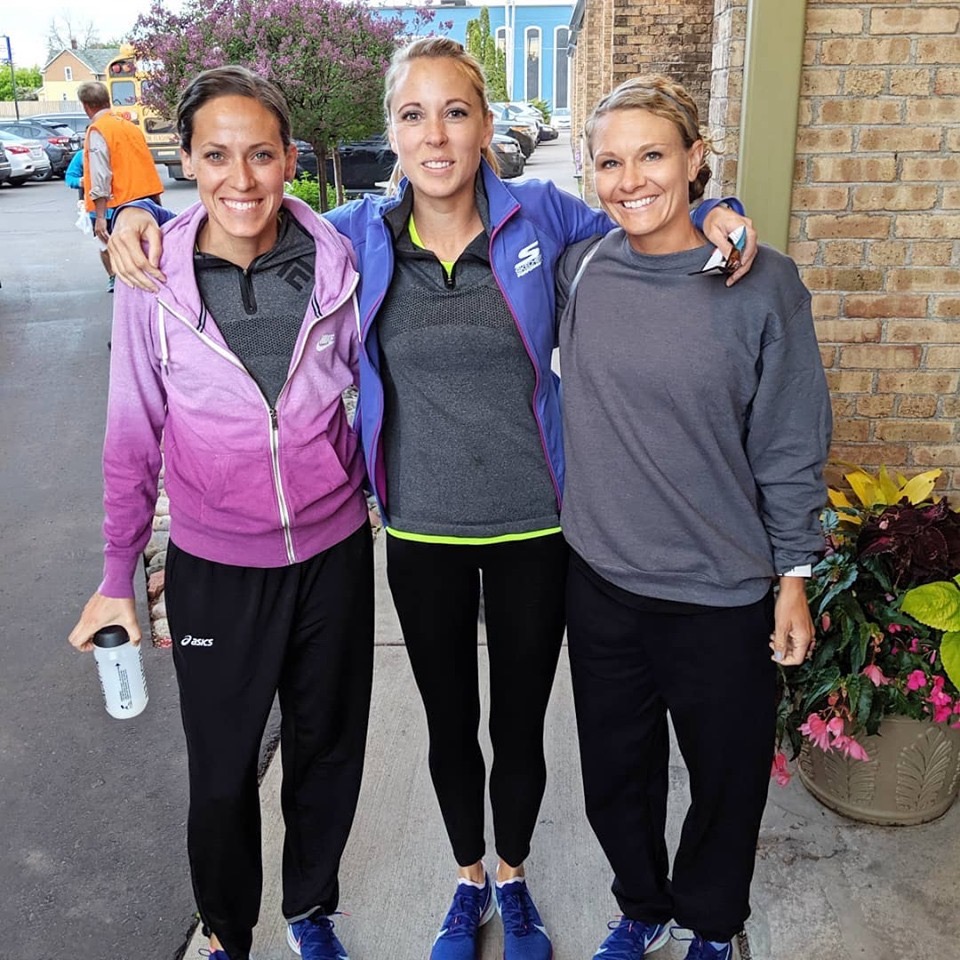 Alison and I met our friend Jami in the lobby and we hopped on the bus. It took forever to start driving and the bus was hot and stuffy. I also think the shocks were completely gone in that bus because the ride up was very bumpy.
The forecast had predicted complete cloud cover all week long, but the sky was clear as can be, with a fluffy cloud here and there. I know a lot of people would be relieved at this, but I'm not particularly fond of running in full sun. Luckily, I had packed my sunglasses.
We finally got to the starting line and we headed straight for the bathrooms. The lines were ridiculously long and we were having a hard time finding the elite area. We were directed further past the starting line about a 1/4 mile away. Luckily the line at the elite bathrooms was short. It was a pretty serious group and everyone was in the zone. As an elite, we were able to hold onto our bags and clothes longer than the regular drop bags. We had till 10 min before the race to drop the bags. My plan was to use liquid Maurten 320 for the first 45 min of the race and then switch to gel Maurten. I had three small water bottles that held 5 oz. My shorts easily held two Maurten gel and a little water bottle in each side pocket. I carried the third water bottle in my hand, as I would be consuming it in the first 15 min of the race. I also carried a few pieces of Run Gum for the end, if needed.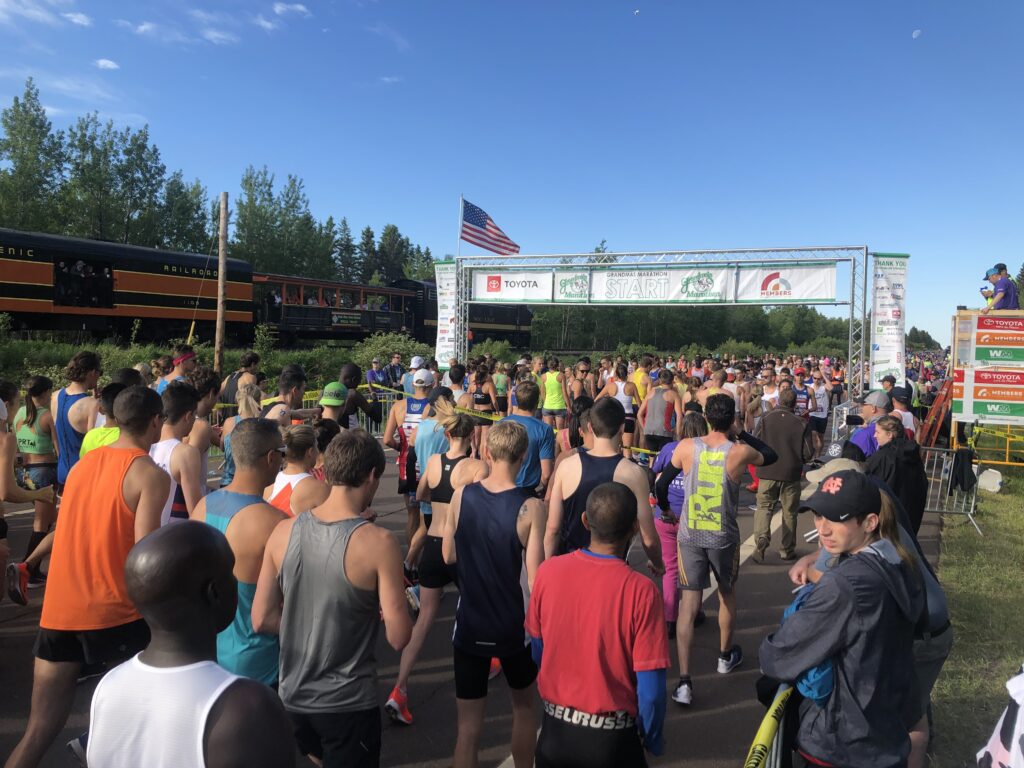 Did a very short warm up and a couple strides and they insisted we head to the starting line. There were so many elites. We had to get behind the handcycle race, as it was starting earlier. We squished ourselves among more elites than I've ever been at a starting line with (expect maybe college nationals). It was pretty amazing to see so many men and woman going after the marathon. I looked down at the shoes and it was about 90% Nike 4% with a scattering of other shoes. Pretty crazy to see.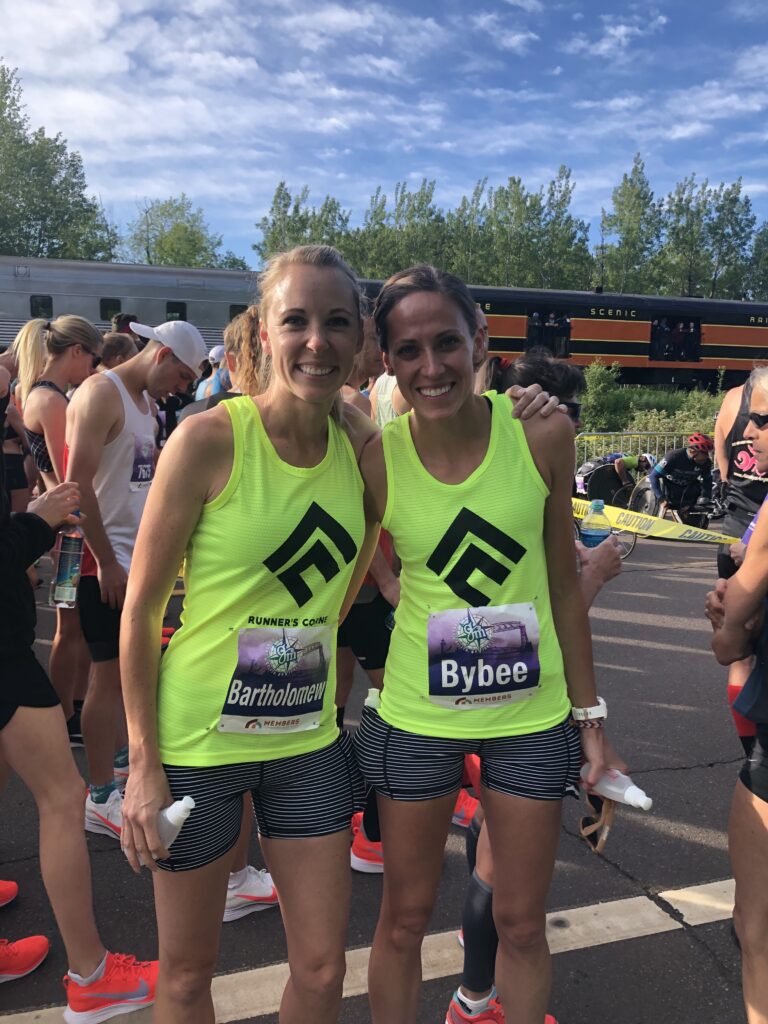 Finally they called all the athletes who had a name on their bib instead of a number (elites) to the front and before I knew it, the horns sounded and we were off. A little bit of elbowing and kicking here and there. It was so crowded. I tried to just stay calm and find a good place in a pack. There were so many to choose from of girls that had the same goal as me.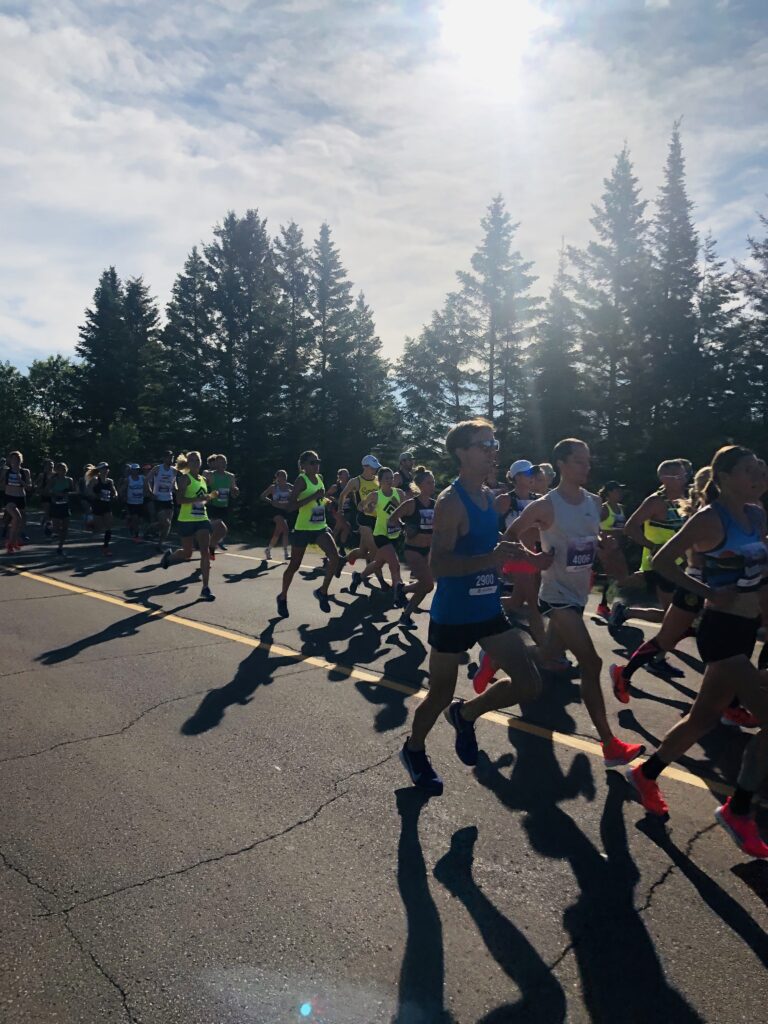 The race starts with an incline. So immediately I was questioning effort and pace. I knew the first 5 miles were a little bit of downhill, so I wasn't worried when the first mile beeped 6:11. Then it was 6:11 again, then 6:12, 6:14, 6:11. I had three thoughts at this point. 1- This course is way more rolling than I anticipated. There has been no flat, but just gradual up and down. 2- This pace is a little hot. I probably shouldn't be going this fast. 3- I feel great. This feels effortless. I can hold this pace for a long time. No need to worry!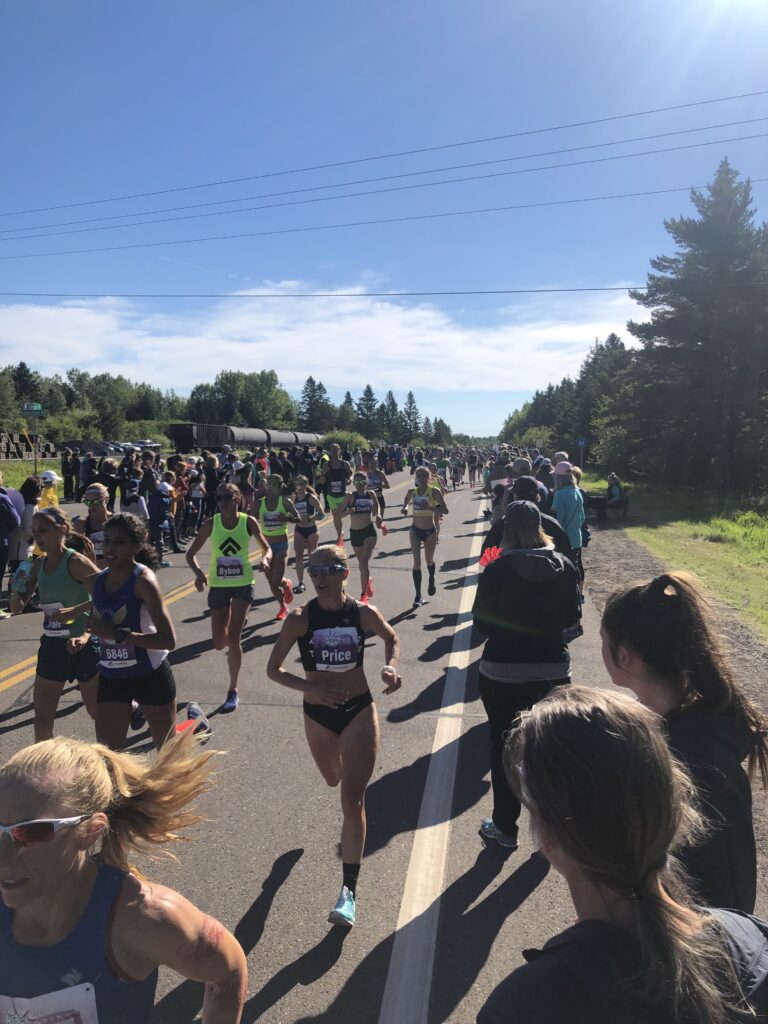 I saw Dustin a couple times through these miles. I was happy to see him!!
I finished all the liquid Maurten by mile 7 (miles 6 and 7 were 6:18 and 6:12). We came through the 10k and they had the clock. I was excited to see a fast time. I knew my family and friends were tracking me and would see that I was more than on pace. I had moved from pack to pack throughout this time. Every time we moved through a water station the pack would split up a little bit and then new packs would form. There was one point where one of the girls offered her elite bottle to the girls around her- three other girls took a sip. She asked again if anyone needed it, and when no one did, she tossed it. It was amazing the energy in the packs. Everyone was after the same thing. We weren't competing against each other, but with each other.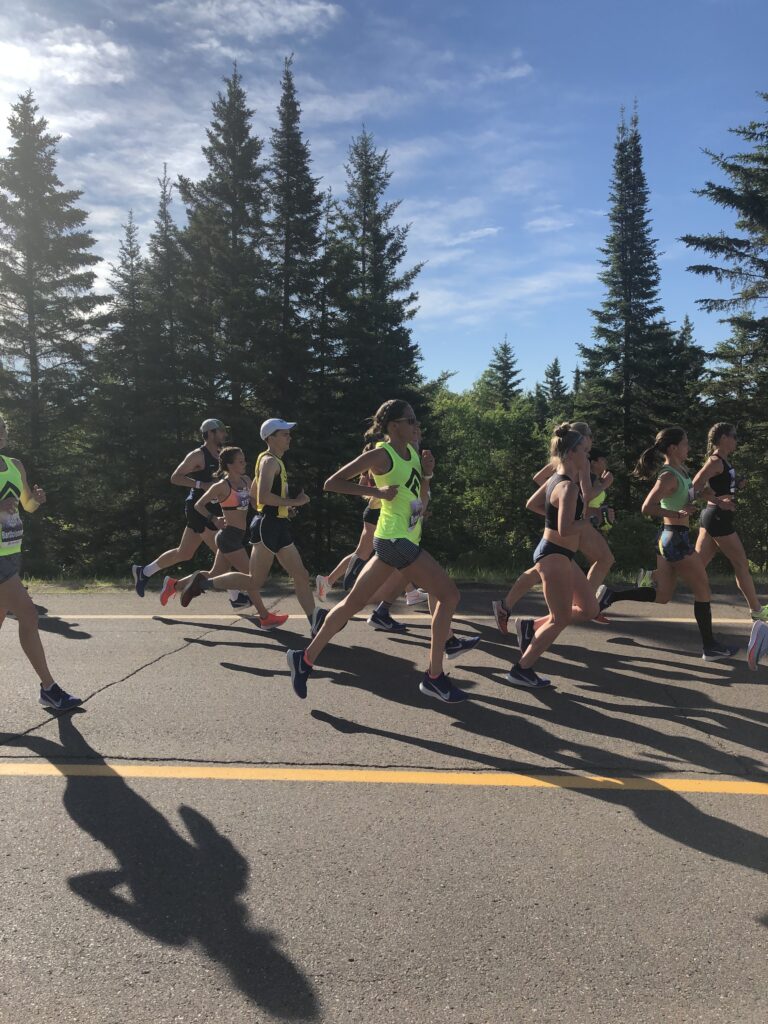 Mile 8 and 9 were a little bit of more climbing than dropping. I went 6:15 and 6:13. The effort wasn't as easy as I would have liked, but I was still running smooth and under control. I should have been running these miles slower, but I had my pack and I wanted to stick with them. Mile 10 is the most downhill of the race. I easily cruised to a 6:09, my fastest mile of the day. During this mile I ended up leaving the pack. I was running a little too fast. I knew it in the back of my head.
Mile 11 was a climbing 6:19. I felt strong, but a little tired. I took my first Muarten gel, hoping for a little boost. Mile 12 and 13 were identical miles at 6:13. Im still under pace, but it's starting to hurt more than I want. I come through the halfway with a 1:21:31. This time looks good. I feel good about the time I have banked. Mile 14 I ended up mixing with a pack that had my Runner's Corner teammate in it. We ran a 6:18 for mile 14 and it felt good to be in that pack.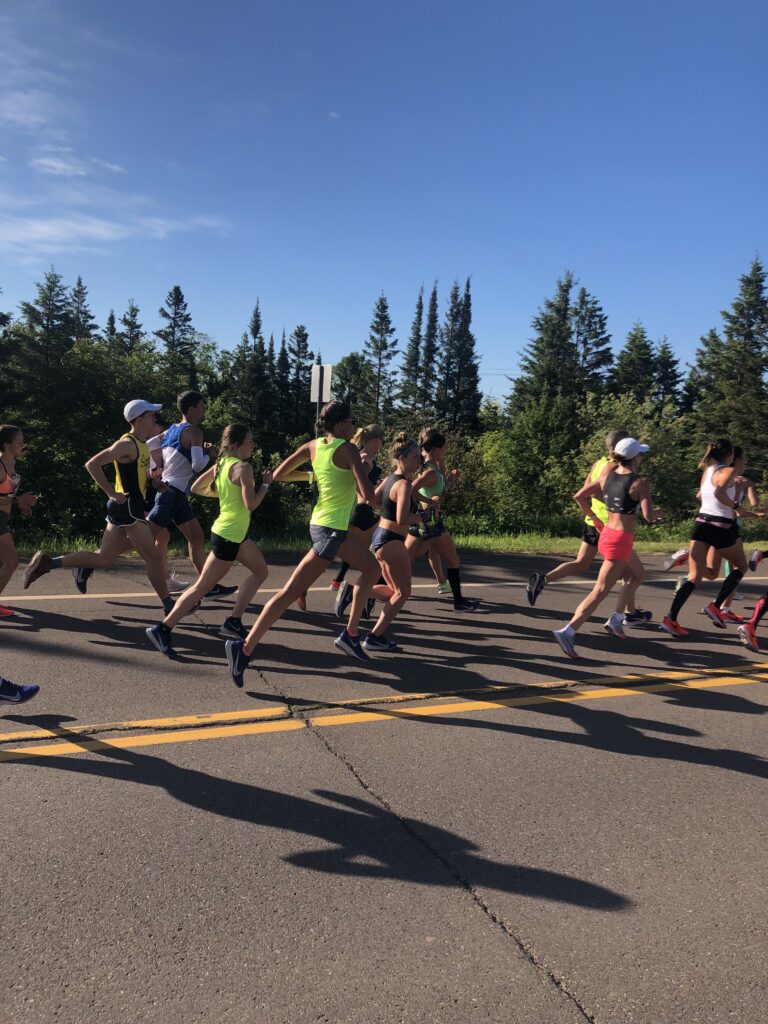 Mile 15 was a 6:14. The pack broke up at a water station. I grab some water to sip (I feel hot) and I shove some ice down my shirt. It cools me down. I take another Maurten. Mile 16 is a 6:23. The newly formed pack starts to drift away. I hear my teammate call my name. She's telling me to get up with her. Every part of me wants to join her, but suddenly it feels so hard.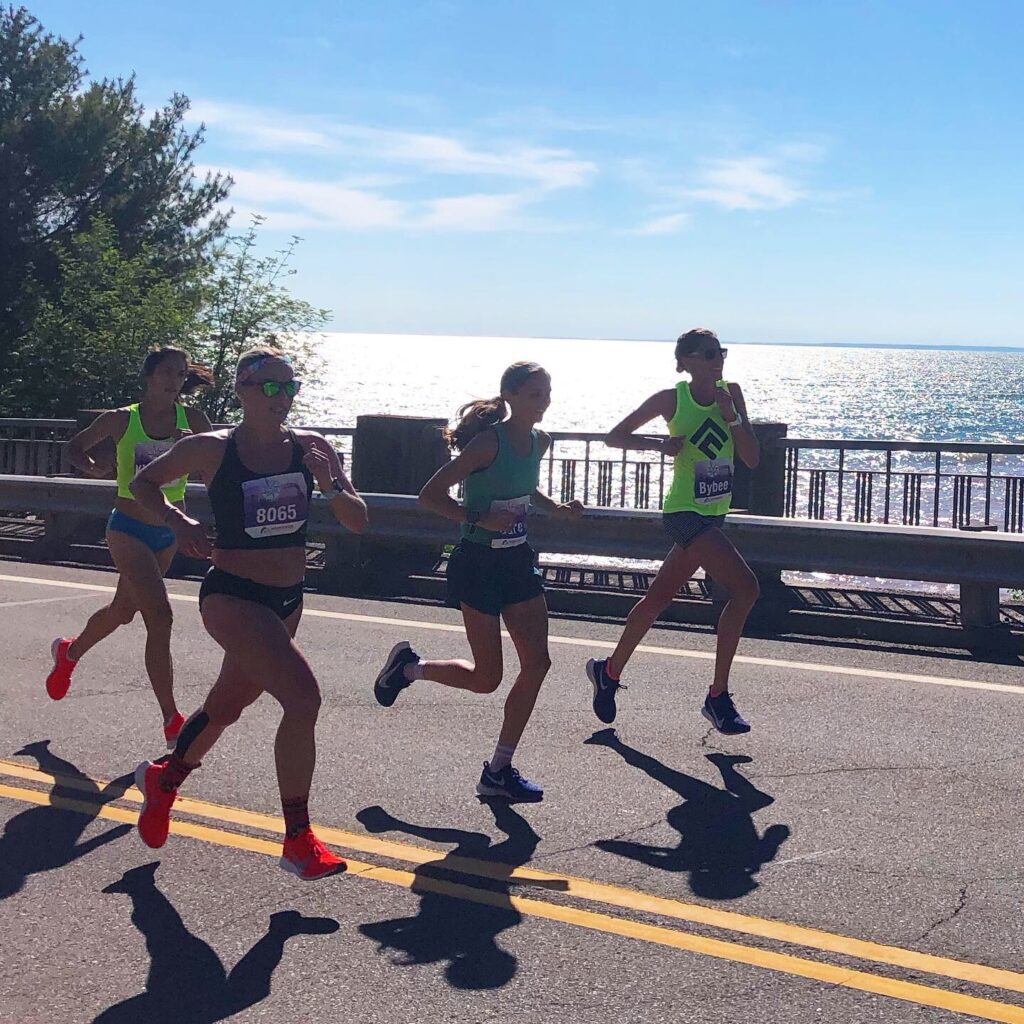 Mile 17 was the beginning of the end. I ran a 6:37 and it was all my legs could give. Mile 18 was a 6:55. That hurt even more. My pace is declining significantly. I'm hot. I don't feel good. My legs hurt. I take a Run Gum in hopes it will give me something. Mile 19 is a 7:02. When I saw my pace sliding over 7:00 – I truly felt disheartened. There was no coming back from that. Dropping back down 45 seconds per mile was not going to happen at that point. I saw Dustin around this time and he gave me all the positive energy he could give, but it was like it completely reflected off of me. He started to jog by me for a bit (because at this point it was a jog).
I was sad. Sad because I felt like I let him (Dustin) down and I knew that he knew it wasn't happening, and that made my heart hurt. Mile 20 was a 7:42 with a stop to get some water down. Why did I feel so hot? It wasn't even that hot outside.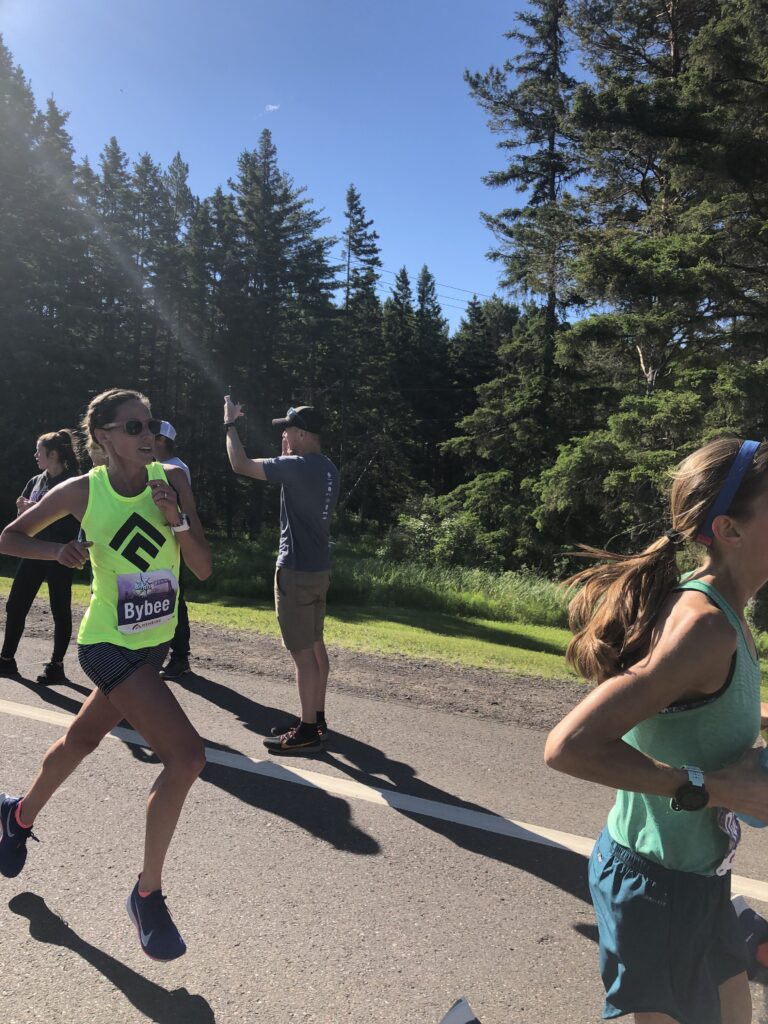 Mile 21-24 were a blur of pain, Dustin cheering and helping me, and a mix of running and walking- feeling nauseous and wanting to quit and maybe even throw up. I ran 8:24, 8:03, 8:11, 8:15 for these miles. I put ice down my shirt. I tried to take more Maurten gel and Run Gum, but anything I put in my mouth made me nauseous. I immediately spit it back out. I would pick a point in front of me and will myself to get from one point to the next.
The big hill of the race is Lemon Drop Hill around mile 22. I think if you are having a good race, this hill doesn't feel like much. If you are having a bad race, it is crazy hard. I'll admit I stopped for a bit on this hill. It's really sad when I look back, but I still believe I was giving it my best. After a couple hills back to back it flattens out and there is a turn with a little bit of downhill.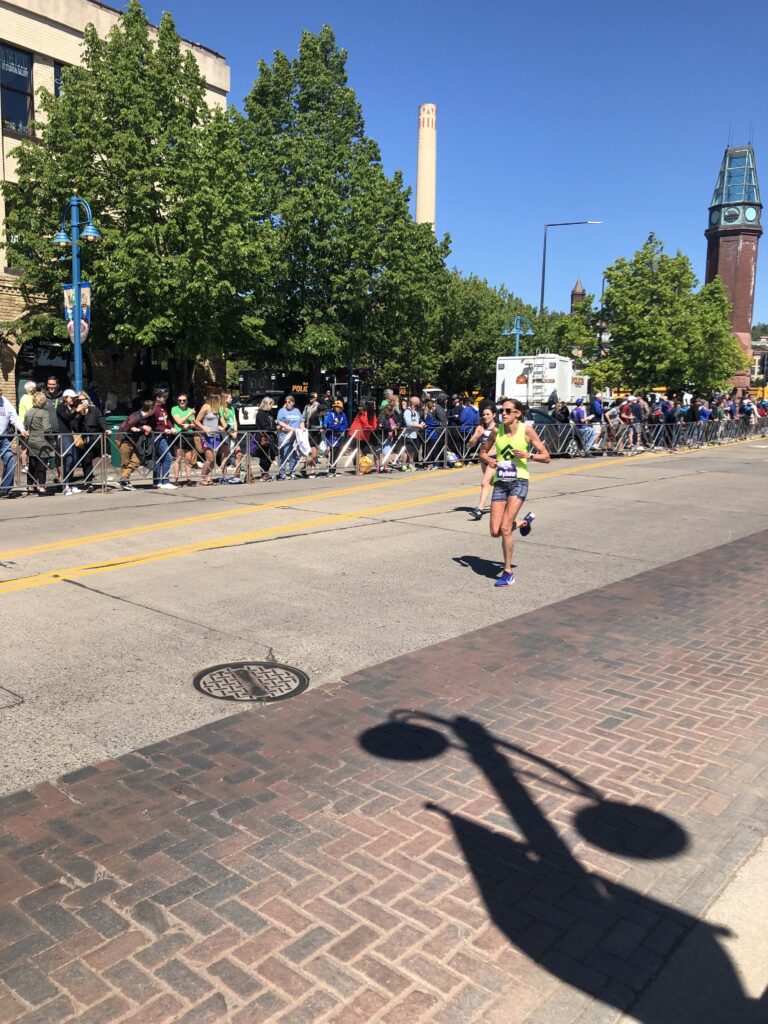 I felt a tiny bit of life come back into my legs. With each mile I would see another goal slip away. Sub 2:50, sub 2:55. These times drifted away so easily when I knew they would be attainable if I had gone out at a different pace. Mile 25 is finally back under 8 min pace (7:39). The crowds are yelling. The bands are playing. The city is alive! I hurt. Mile 26 feels uphill with lots of twists and turns. I run a 7:48. Okay- it's time to break three. My legs feel like they will fall off, but anybody can run hard for a few min.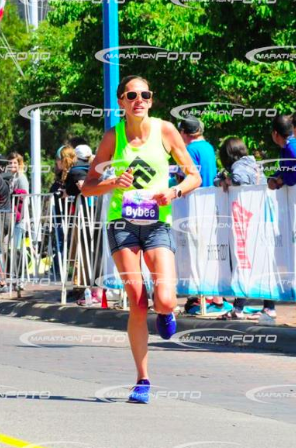 It's the last stretch. I feel like I'm running 6:00 pace (it's 7:02) pace. I will at least get a sub 3. There's no question at this point. I'm almost done. The suffering is almost over. The final stretch feels like a mile. I cross the finish line!! I sort of raise my hands up, but stop halfway. I think my subconscious was like "why are you raising your hands? this isn't a celebration. That sucked". It's over. The pain is over.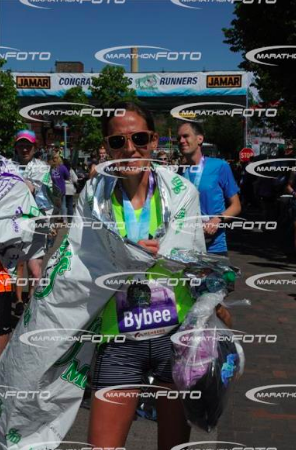 There is someone standing right there with my drop bag. The perks of being elite (although I didn't feel elite at that moment). I take my bag. I feel sick. Someone hands me a foil blanket. I am so thirsty. I need water. Someone else hands me a water. I turn around. I'm looking for Alison. She hadn't passed me, so I knew it wasn't her day either. I hope she is close. I watch her cross the finish line. They hand her bag to her and she comes over to me. We hug. It's over. We walk over to the nearest curb and just sit.
She's feeling sick and I'm freezing. My feet hurt. Finally we stand up on shaky legs and walk over to our husbands. I took my shoes off. Even thought I didn't have shoes to change into, my feet wanted them off! I was soaked and shivering (I shoved so much ice down my top during the race). I took my jersey off and changed into a long sleeve and pants. The guys left to get the car and we hobbled over to some chairs. Alison wanted a coke to help settle her stomach. It was a long way to the drinks. I hobbled in my socks. We didn't have much to say. It was rough out there for both of us.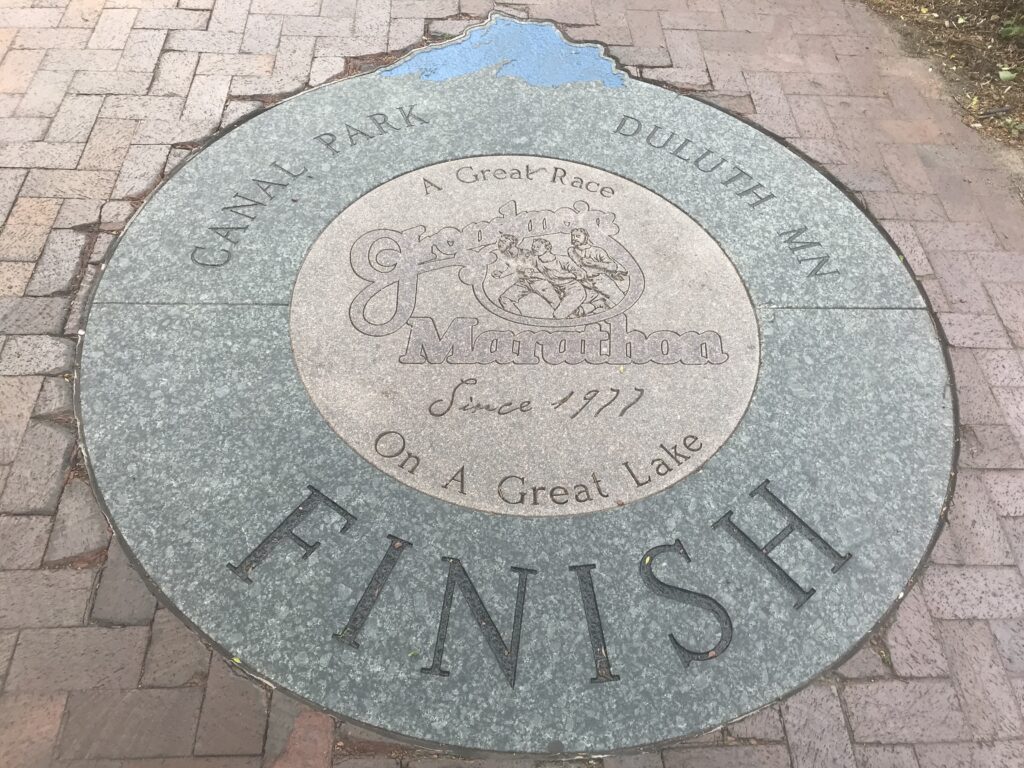 In hindsight, maybe I wasn't ready. I had missed some training. I went out too fast. I wasn't ready for the rollers. I can analyze it all day. At the same time, I ran a freaking marathon! I managed a sub 3 despite walking quite a bit. Marathons are hard. I have yet to feel a magical marathon where it just clicks. Maybe that is why I keep coming back for more. It's something I don't quite understand, but I want to conquer.
Here are the Strava stats: