In my previous post, we examined how one of my runners, Matthew The Chicken Slayer Maynard, had progressed in his first eight months with me—we looked at how we prepared the way for the endurance spine and higher density, high volume workouts. We also looked at how to pick a coach—I'll address the coaching issue in much more detail in later posts (I received lots of emails about this, especially from people looking to get into coaching).
Today, we'll look at how you can introduce the endurance spine into your training. I'll show you some great examples of how well it works.
To recap: the endurance spine starts out as a 75' marathon run at 'current' marathon effort. Ideally, we start this about six-twelve months before your marathon. (Remember: we build up to this, starting out with 30'-40' tempo runs.) We alternate this with a structural run. Like the endurance spine, we progressively develop the structural run: we build up until you can run 2hrs5' comfortably—we then extend on out to roughly 2hrs30'-40' (I'll cover the structural run in later posts but for now, we alternate it with the endurance spine).
Let's look at another one of my runners, Jaydn The Philosophical Carpenter Asay. Later this year, Jaydn's looking to nail the US Olympic Trials Qualifier (sub-2hrs 19′ – marathon).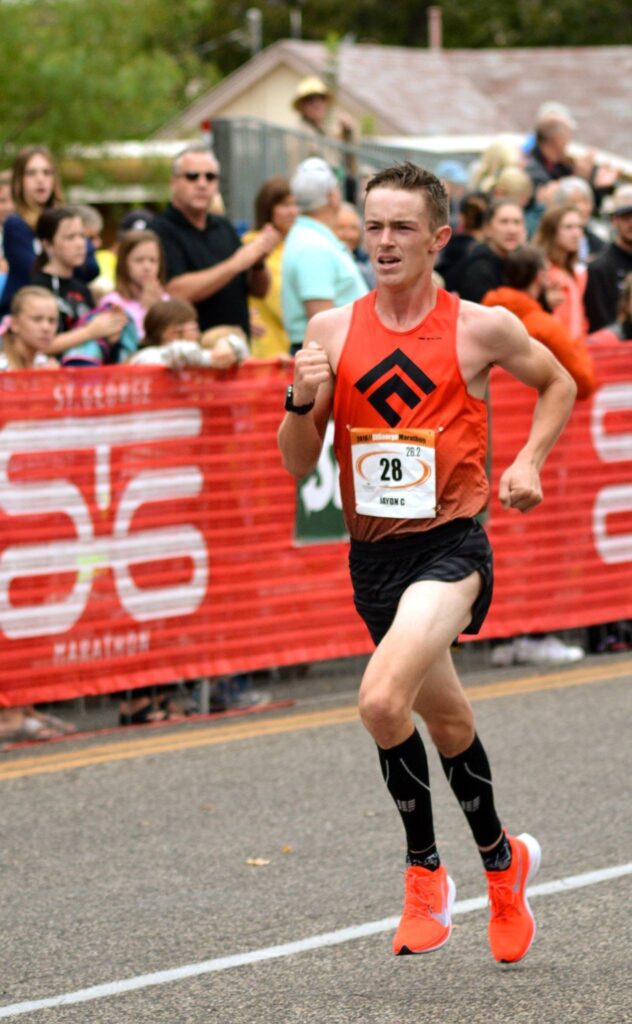 Prior to starting with me in April, on the 16th March, Jaydn won the Gold Rush 5k in 17'10" (roughly, 5'30" pace—he was returning after an injury). After a few weeks with me in April, we had Jaydn starting out with a 40' tempo @ 5'30" and a week later, a structural run of 16 miles at 6'30 pace.
Over the weeks, we built up in a similar way as we did with Matthew. Fast forward to 4th Aug (last week) and he dropped out this little baby: 3 WU – 14 miles Tempo @ 5'25" avg – 3 CD (total: 20 miles)—effectively 75' @ 5'25" (here's the beautiful rub though: it's at 4,900 feet—this equates to 5'15" pace @ sea level). Jaydn still has roughly five weeks before we introduce the hard-core marathon specific work.
Another example is Aoife Cooke. Aoife's gunning for a place on the Irish team at the 2020 Tokyo Olympics (marathon). Aoife started with me back in January. Her first 40' tempo runs averaged out at roughly, 6'30 pace. A few weeks back, she banged out this endurance spine run: 2 miles easy – 13 miles, starting from 6'10" pace down to 5'50" pace – 2 miles easy. What's interesting and different here is that Aoife's endurance spine run is longer—in terms of time—and progressive in nature. The specific element of Aoife's endurance spine run is 90' and progresses down to 5'50" pace. Without forcing anything, every two weeks, Aoife's marathon pace is improving.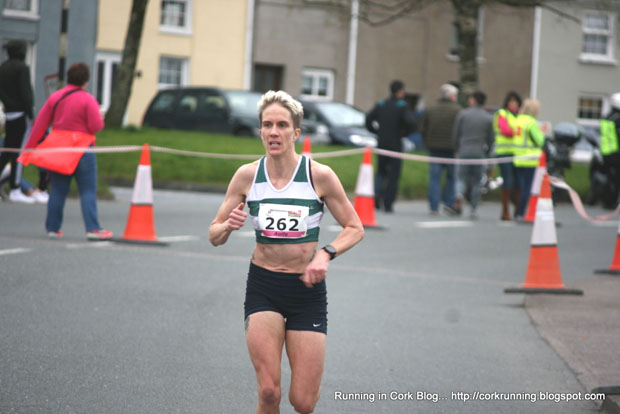 To give you some idea of a high density, high volume workout that goes with these endurance spine runs, on Wednesday, Aoife popped out this cheeky little rapscallion:
10sets (800m+400m+200m) /2' rec between reps/5' rec between sets
800's:
2'34", 2'29", 2'28",2'29", 2'31", 2'28", 2'30", 2'29",2'30", 2'29"
400's:
73", 71", 71", 71", 71",71", 71", 71", 72",72"
200's:
33", 33", 33", 33", 33", 33", 33", 34", 33", 32"
Aoife's pretty much ready to begin her marathon training for Dublin City Marathon.
For you, if you're looking to make big improvements over the marathon, you need to look at where you are in your running life (how many years you've been running, what times you run, what work's like etc) and decide how to fit these in. But start out with 30'-40' tempo runs at roughly current marathon effort. If you're relatively new to running, progress slowly—the pace will improve naturally. Look at Matthew's progression and training. But be careful: Matthew's training is crafted around his life but it will give you a good idea. (If you need any help with this, feel free to shout me.)
To help you implement the endurance spine into your training, my next post will look at the structural run, and how you marry and progress that with the endurance spine…