A modern house. STAZZA brews coffee, pours for two—Fornasetti Architettura cups. He is 54, dark-haired (tinged with silver), cool. He does everything with deliberate quietness, glances towards the kitchen table to see if COACH STAZZA (54) is looking—he isn't. He scoffs a small pink fondant cake, sets out a plate with three lemon fondants, three chocolate, and two pink.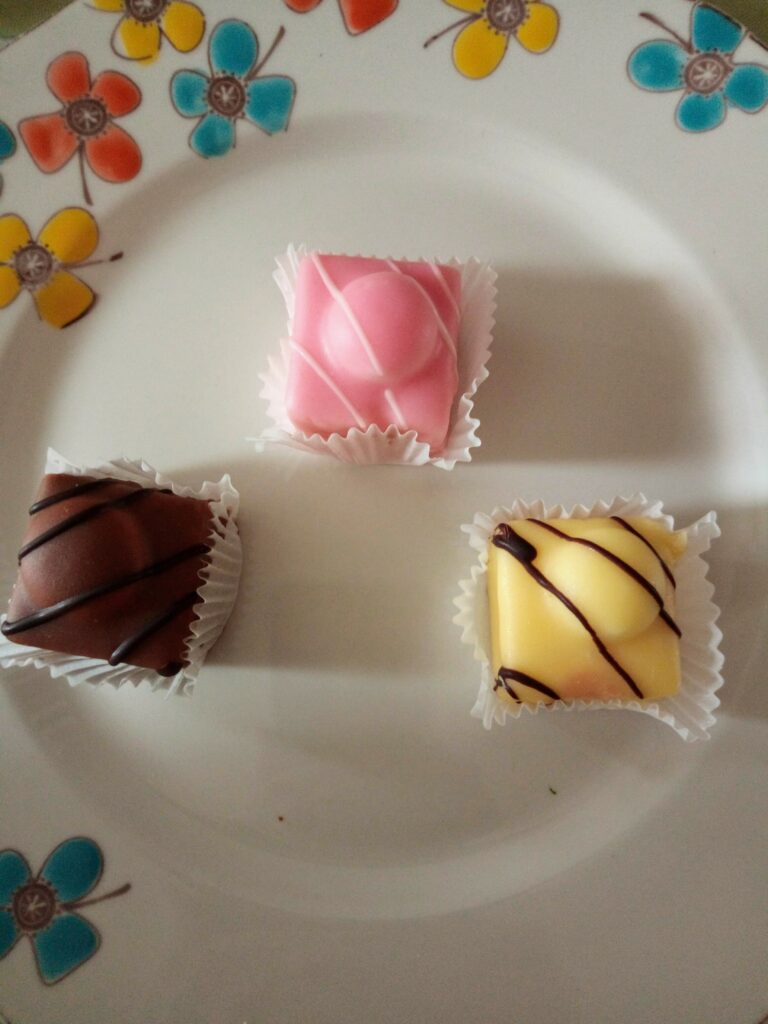 STAZZA sets a cup of coffee and the plate of fondants on the kitchen table in front of COACH STAZZA, then, takes the other cup of coffee, and sits opposite COACH STAZZA.
STAZZA
I guess, I'm something of an outlier then
COACH STAZZA
More like an outright liar.
It's half-serious. STAZZA doesn't react.
STAZZA
Have a fondant. They're exceedingly good. I think you'd like the lemon ones—I prefer the pink and the chocolate.
COACH STAZZA
We've covered your strength and conditioning. Let's look at your nutrition.
STAZZA
Sure once I get stuck into the training, I'll be fine and dan-day.
COACH STAZZA smiles to himself.
STAZZA
I'll be back up to 150 miles a week in no time. I'll be flying and then I can bang-in any scran I want. Cakes, biscuits, pastries, and bagels. I'll burn it all off.
COACH STAZZA
You can believe that if you want to.
STAZZA
Ha, that's from Casablanca—Ilsa says that to Rick in the Bazaar scene.
COACH STAZZA
(Glancing at the picture of Stazza's teenage daughters on the press)
If you carry on eating like this, the dirt will have you for dinner.
(picking up his coffee)
Time to quit the false braggadocio.
(sipping the coffee)
The sugar's turning sour.
STAZZA
I can jump on the old High Fat Low Carb diet.
(picking up a pink fondant)
and that'll fit with the ultra training.
(eating the fondant in one go)
I have a year.
COACH STAZZA
In a year, the worms and maggots will feast on your rotting corpse.
(looking at the picture again)
Think of them.
STAZZA
So what's wrong with the High Fat Low Carb diet?
(eating the final pink fondant)
It's all the rage with ultra runners.
COACH STAZZA
(sipping the coffee)
Nice coffee. Indian, isn't it? Beautiful cups. Fornasetti? A Viking I coach introduced me to Indian coffee—underrated.
STAZZA
I've got a cupboard full of coconut oil, avocado oil, extra virgin olive oil, butter from free range, grass fed, cattle.
(taking a chocolate fondant)
I'm ready to go.
COACH STAZZA
(setting down his coffee, leaning forward)
Yesterday, I chatted with the two great distance coaches, Arthur Lydiard and Yoshio Koide.
STAZZA
(leaning back and wiping his lips with the back of his hand)
The pink ones are far nicer than the chocolate.
COACH STAZZA
According to Arthur, it's all about almonds.
STAZZA
I'm not a fan of the lemon ones.
(picking up another chocolate fondant and taking it in a oner)
Chocolate.
(spluttering…)
Chocolate covered almonds?
COACH STAZZA
Yoshio argued in favour of white rice.
STAZZA
Rice pudding?
COACH STAZZA
I explained to them, it's all about low glycemic index carbs. Stabilising blood sugar levels.
STAZZA
(pointing to the plate)
Have a cake—a lemon one.
COACH STAZZA
You see, if you eat a whole-food diet: shop around the outside of the supermarket, picking the fresh veg, the fruit, nuts and seeds, and good quality meat—armed with a list of low G.I. foods—you won't go far wrong.
STAZZA
GIs?
(taking and eating the final chocolate fondant)
What have American soldiers got to do with food?
(licking his lips)
You want me to eat burgers and candy. Surely that ain't no good?
COACH STAZZA
While you're stuffing those cakes in your cake-hole, your insulin levels are firing through the roof and triggering cholesterol production. The mix of sugar and fat from your transient experiments
(rolling his eyes)
into the high fat diets, will have you tucked away on the journey into the eternal nothingness before your eldest daughter reaches college.
STAZZA
What's Lydiard like?
COACH STAZZA
And as for your libido. You gave yourself 12 out of 10. You're 54, killing yourself with sugar, fat, and processed crap; you're hardly doing any exercise, and you want me to believe you're something of a gigolo—DON JAUN STAZZA.
STAZZA
(rubbing his bristled chin)
Isn't Lydiard dead?
COACH STAZZA
Look at your finger nails. In your Profile Questionnaire, you lied. You do have white spots on your fingernails and groves. You complained about getting up to pee in the night.
(picking up his coffee)
You also put on the PQ that you didn't have infrequent dream recall and earlier today you said that you never remember your dreams. You never have vivid dreams.
STAZZA
I'm sure Lydiard's dead.
COACH STAZZA
Do you not get it? It's all about sugar.
(sipping coffee)
Soon enough, either diabetes, cancer, a stroke, or a heart attack will take you down. You must change your ways—now.
STAZZA
(Picking up a lemon fondant)
Did Lydiard invent shoe laces?
COACH STAZZA
Concentrate. You begged me to help you.
STAZZA
(nibbling the lemon fondant and frowning)
Ah, you see now, check right there on my PQ.
(picking up the document and pointing to a section)
Right there, it asks if I have problems with poor concentration. I said, yes. I struggle to concentrate.
COACH STAZZA
(setting down his coffee)
You also said, and I quote, I am terrible when it comes to sweet stuff and pastries. Please help me, Coach Stazza.
STAZZA
Tell me this, the Japanese coach, Koide, isn't he dead too?
COACH STAZZA
You know, I need to get this through to you. We must go through the details of your nutrition, so I can marry it together with your strength and conditioning, medical background, and your running—I can't do your Timeline without it.
STAZZA
If you had to pick one, Lydiard, Koide, or Canova, who would you pick—the greatest?
COACH STAZZA
How many pastries do you eat a day?
STAZZA
I'm sure Canova's alive. I think Lydiard and Koide are dead.
COACH STAZZA
You'll be dead soon.
STAZZA
Gotcha. So Lydiard and Koide are dead then.
COACH STAZZA
If you won't be honest with yourself, how can I help you?
STAZZA
That's rich. You're there saying you were chatting to two dead people and I'm the outright liar. You think you're that kid from that movie with Bruce Willis, don't ya?
COACH STAZZA
Are we going to do this?
STAZZA reaches for the last lemon fondant. COACH STAZZA jabs out his hand and grabs STAZZA by the wrist, stopping him from taking the last fondant. They stare at each other—hard.
COACH STAZZA
Ouija board.
Next time, Coach Stazza manages to break down Stazza and get to the bottom of his sugar addiction, his pastry eating, and gigolonessiocity…