"All of his clothes have to come off," the medical tent Doctor announced to the Nurse! "Wait, what!?" I protested…
Four years earlier on a cold winter day, I found myself feeling depressed and defeated by my toxic and lackadaisical lifestyle. "I'm 50 and pathetic," I scold myself! I'm short of breath going up half a flight of stairs (I usually ride the lift) at the hospital where I attend to patients. Too often, they were there for problems stemming from my same dietary and couch potato behaviors that I'd let slip for 20 years or more. "I'm becoming one of my own 'train wreck' patients," I ranted out loud as I huffed and puffed up the rest of the stairs, after resting.
I made a decision when I was 51 years old to run a timed event, but my journey actually began when my daughter, Nicki, bought me a Fitbit for Christmas late in my 50th year, 2014. I started with a walk-jog treadmill program that I made up as I went. The treadmill was convenient because we have a Physical Therapy department at work. Shooting for 10,000 steps, for me at the time, was an ambitious goal. As long as I swung my arms, I would get the counted steps. I watched a TV show to pass the time. At first, the jogging was only during the commercial breaks, followed by loud gasping for air during the program. As time passed, the jog was during the program and the walking/catching my breath was during commercials. Between the treadmill and giving up soda pop, I dropped 30 lbs in about nine months time. I couldn't believe how much the weight loss helped. I was lighter on my feet. I began to land mid foot and even forefoot instead of the heel. My gait and stride became smoother and quicker. I began reading and studying about form and training.
It was a brisk Thanksgiving morning when I ran my first 5k at Thanksgiving Point in Lehi, Utah in 2015. As my son Justin cheered me in, I felt exhilarated and alive coming across the finish line! I felt like I had accomplished something meaningful and fulfilling. On the ride home from Lehi, Justin said, "It's seems like you're really getting into this running thing, dad". I replied, "My dad always wanted me to be a runner; he said I had good legs". Not surprisingly, It seemed like my stair climbing and shortness of breath at work were so much better! My body aches and pains, which I thought felt like arthritis, we're fading too. I found myself smiling more and feeling giddy and excited over simple things. My wife, Kate, noticed my cheerfulness.
"Wow! 10K sounds really far. I mean, that's over 6 miles of running as fast as you can," I thought. February 2016, my niece signed us up as part of an Expo in Sandy, Utah. She was on the BYU Triathlon team and had run in high school. Once again, the thrill and joy filled me as I crossed the finish (a minute before she did); I was hooked!! "I love this!" I exclaimed to the massage therapist working my legs after the race. I'm pretty sure she thought I was talking about the massage (which was good), but I was actually talking about running and racing. The words just blurted aloud because I was so thrilled with my euphoria; I was feeling the high!
With the highs, there were also lows. Muscle soreness and pain of hard running and training. The ice baths and rolling that bloggers told me about online, are not thrilling at all. To add to the misery, I wasn't very good at following training plans. I just ran as hard as I could for an hour, 3-4 days a week. When I had knee or hip or calf pain, I would consult the internet and try to push through. If I really hurt, I took a few days off and hit it again. No pain, no gain, right?
While training for my first half marathon, the Provo City Half, which was held in May, I dropped another 5 lbs. Before I knew it, the gun sounded and off we went! I was actually going to run 13.1 miles as fast as I could! I followed a group of 9 or 10, then decided I could go a little faster and followed a smaller group of 5 or 6; faster still, I saw a group of 2 or 3 and caught up to them! I ended up following a 30 something year old female, whom I followed all the way to the finish line coming in at 1:34.20.
That very same week, I signed up for my first full marathon. Was I absolutely CRAZY?! It would be the 40th anniversary of the St. George (STG) Marathon on October 1, 2016; it would be historic. The self same week that I signed up, I discovered right lateral knee pain that was crippling. The Orthopedic told me it was iliotibial band (ITB) pain which was obviously caused by "overuse". He gave me oral steroids and benched me for 2 weeks. When I started to run again, the bite was just as intense and crippling as before. Twice I found myself hitchhiking out of Provo Canyon because I couldn't walk, much less run my way home. Hitchhiking mind you! I have never considered this extreme measure in my life. I battled with IT band pain and secondly, left patella femoral pain on and off throughout the summer training. I honestly thought STG was not going to be possible. Finally, my injuries let up with plenty of physical therapy, hip strengthening, and retraining (and marcaine injections, ouch).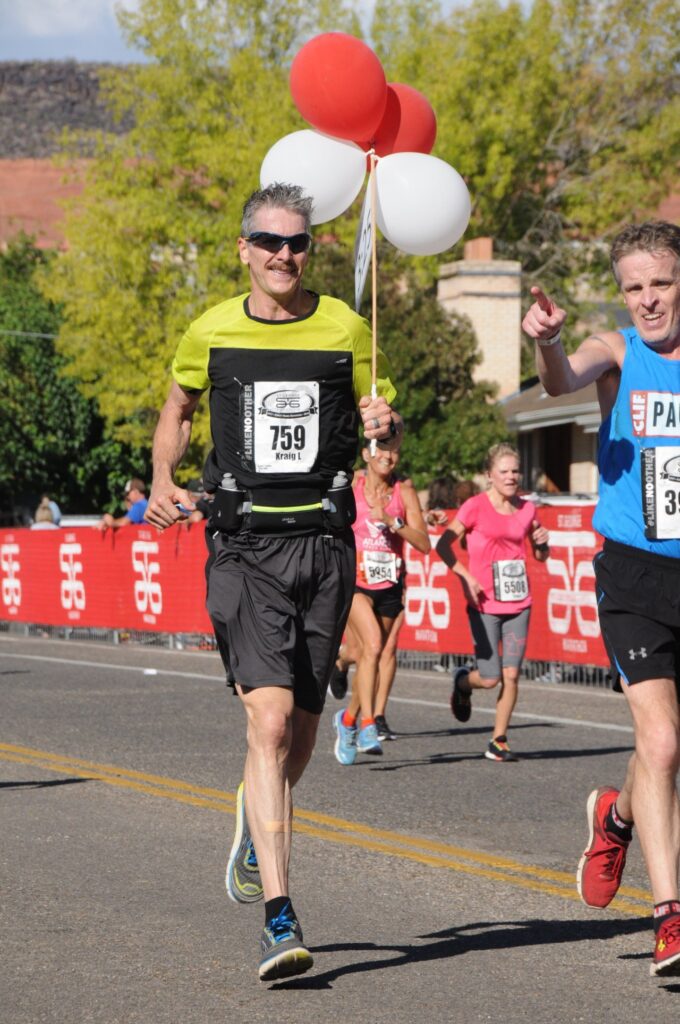 I leaned down another 5 lbs for STG Marathon and stuck with a great story-telling 3:25 pacer, named Tommy. He told us captivating stories of himself running from Maine to Florida, raising money for charity. He had funny jokes and anecdotes that helped pass the time and suffering. The suffering is real in the full marathon and I told myself if I finish this race and Boston qualify (BQ), I would never sign up for another full. Somehow, through the tender mercies of the Lord, I was able to stay with Tommy; though the last mile, he turned drill sergeant on me! I can't remember most of the things he called me and threatened me with, but the last 50 feet he softened and let me carry the balloons and time flag across the finish to make nice again, lol. He was good to me. With a BQ at 3:23.50 (age 52); the delusions of grandeur and suffering sacrifices were realized and totally worth it! The elation was more surreal when I found my son and new daughter-in-law unexpectedly at the finish line! I drove alone in our minivan (seats pulled out with a mattress in the back); I slept at a church parking lot. Being four hours from Provo, I was expecting NO one at the finish line. Danny and Emmalee yelled my name and I thought I was having auditory hallucinations! Finally, my son grabbed me and steadied me as I was about to fall and said congratulations Dad, you did it! The three of us celebrated together in the warm sun, then Dan, thankfully, drove me home. I was so excited to be able to say I completed a full marathon and I would never have to do it again!
After about two months of rehab, I fully recovered from my injuries to my, now, left ITB rub and my right achilles tendonitis. At this point, I decided to expand my repertoire and train for my first triathlon. I had never been on a nice road bike, so I had to buy one and learn how to ride it without crashing too many times (YES, more pain and suffering!) I picked up a used carbon Giant with decent components for a reasonable price and bought a swim cap and goggles.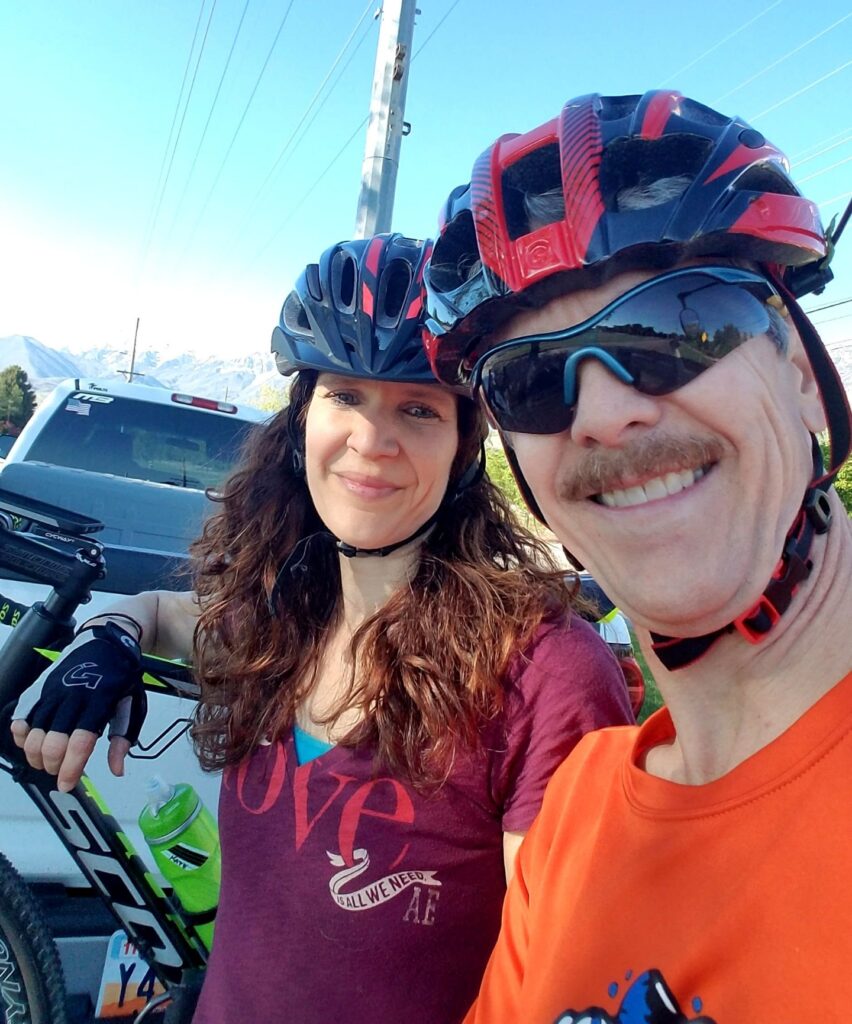 Biking is fun and scary all at the same time! I remember the thrill and the fear of going 55 miles an hour down a hill below Sundance Resort, narrowly avoiding a pothole and almost certain death itself! A friend by the name of Corry was teaching me and another friend Cody some finer points of riding. You might say he was giving us a crash course in speed! Swimming on the other hand, is NOT thrilling at all. It feels more or less like drowning over and over. One of my patients is a former triathlon coach and he told me, "You can't win a triathlon in the swim, but you can definitely lose one in the swim!" I became what you might call a proficient swimmer through trial, and mostly error, haha.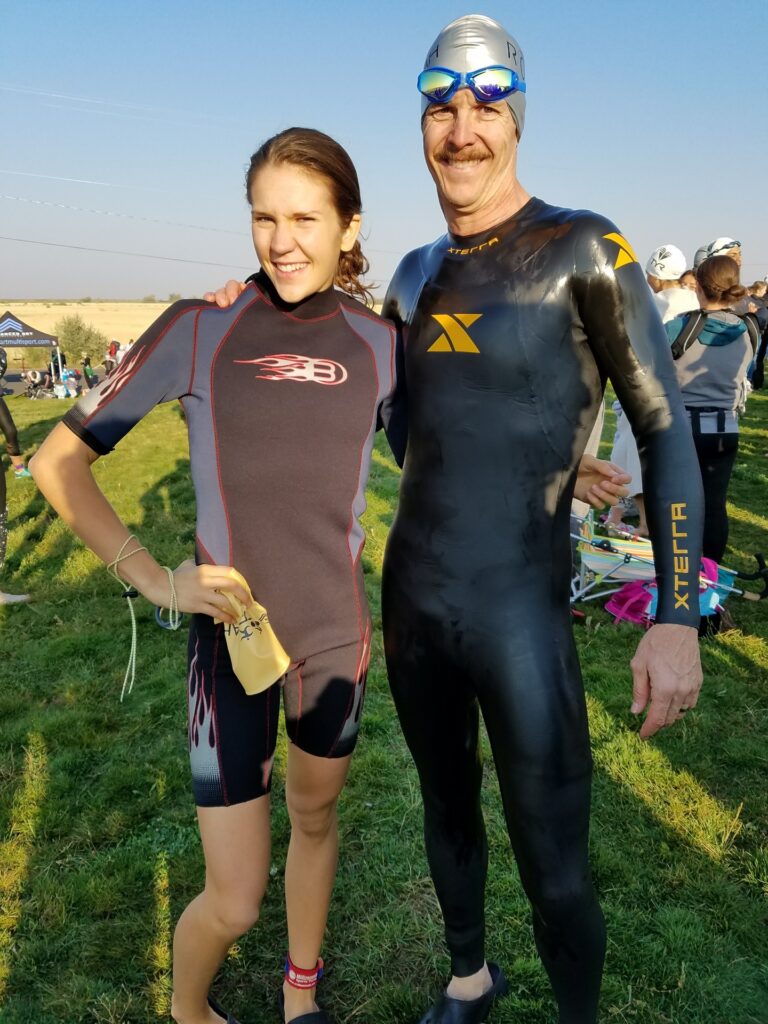 With my niece as my helper at the event, I did the Olympic in 2:15 and my daughter Amanda did the Sprint in a good time, also. This was a new kind of multi-sport fun and challenge with it's own rewards. Many family members greeted us at the finish and it was celebratory and fun! I did one other Olympic triathlon at Jordanelle Reservoir with my brother-in-law Mike; I had a lot of fun with his young family at the finish line. The rest of that day we swam and played at a resort in Midway, where they were staying. Triathlons are fun and awesome, but I didn't feel like I was cut out to be a triathlete, even though I placed 2nd and 3rd in AG at 53, respectively.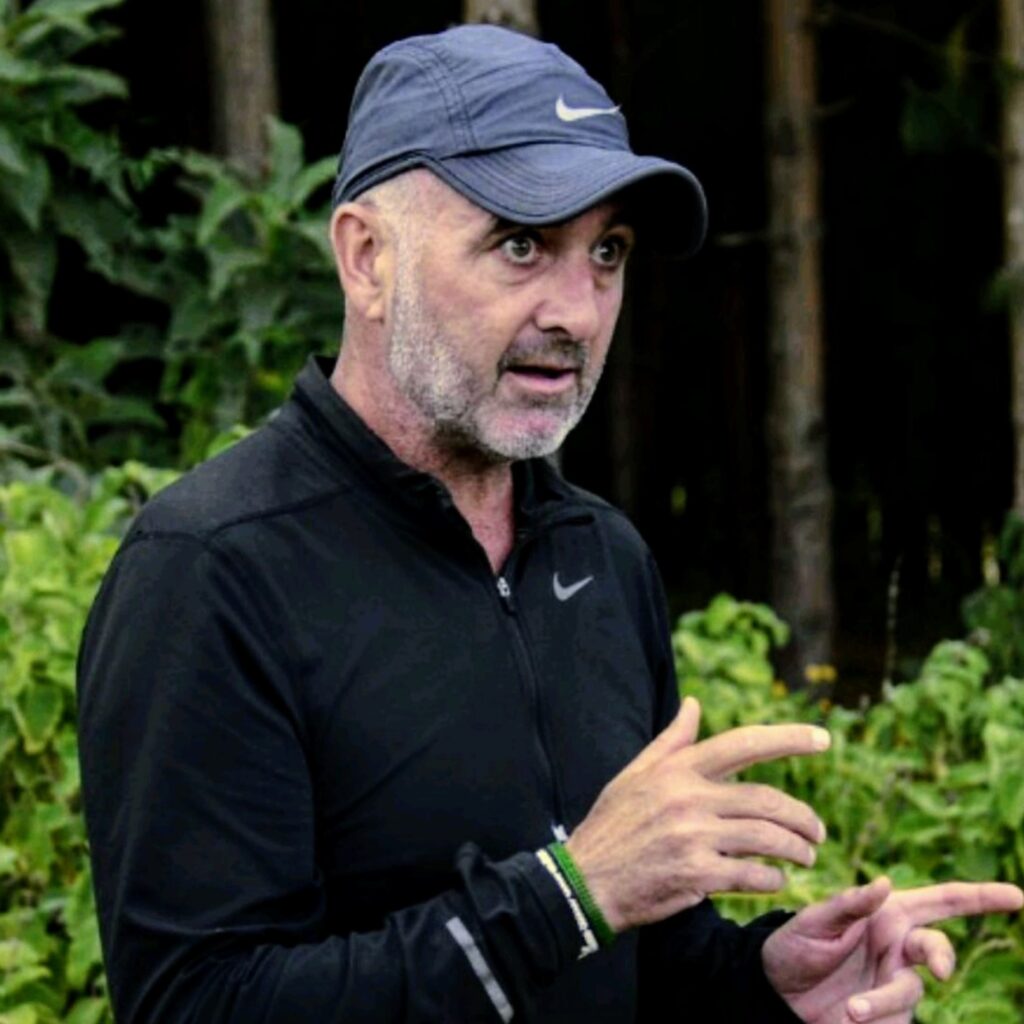 At this juncture, going into my third year of competitive recreational running, I teamed up with a professional running coach who I was referred to by a Strava friend, Alf from Bath, England. He had mentored me along my path on Strava. John Starrett (Stazza) from Tralee, Ireland, now works with me weekly and sometimes daily if I need more, through Strava. Through multiple sensors attached to my body, producing loads of data and analytics, as well as video chatting; he guides me and tries to keep me from harming myself, lol. He inspires me to be more consistent in weekly mileage with each run having a purpose and to consume better nutrition and live with better balance in life so that my wife doesn't leave me, (kidding, Kate loves me, except on long run days!).
Consequently, my most recent, and second marathon (yes, I did it again), which was in Ogden, Utah on May 18th, 2019 (where it was snowing, raining, blowing and cold), produced an official chip time of 3:01.55 (1st in AG by 15 minutes). This was at age 54, standing 6'2″ and weighing in at a buck 50! Shut the front door and color me tickled!!
"…Ma'am, I thought I heard you say to remove all of my clothes, that would just be embarrassing wouldn't it?" (Still dazed and confused from hypothermia.) "That IS what I said!" All of his clothes come off, we cannot treat his hypothermia until we get him dry and hydrated!" My fingers are fumbling and my jaw is shivering, my muscles are trembling violently. Losing that 6 pounds 2 weeks before this race was probably not that smart in retrospect. Ultimately, the warm and soft handed nurse has to help me with the rest of my clothes; and then comes a warm blanket and a foil sheet. "If you make me drink anymore of this hot beef broth I am going to throw up all over the place" I murmur!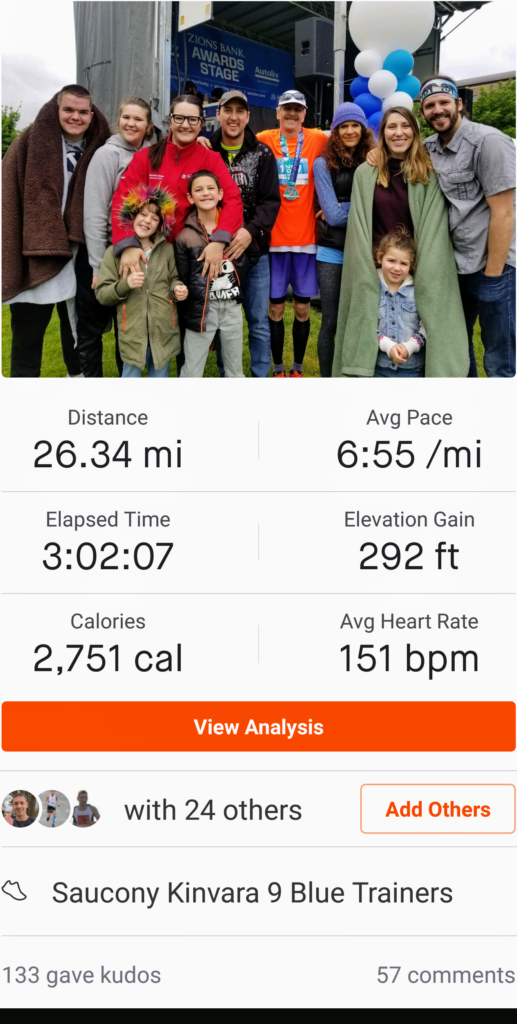 Ten of my family members greet me at the finish line making it all worth it, even though I have very little recollection of these moments directly after the race. I have pictures that show I was thrilled and joyful. I was able to run across the finish line with my 9-year old grandson, Connor! This is a choice memory that he and I will share forever. Ogden was difficult and trying. I'm very grateful I had the experience and the support. Within an hour of completing the race, I communicated with coach Stazza, giving him some details and reporting that I did not make my sub 3 goal unfortunately. "You'll get it the next race", he consoled. Oh no, another full, I thought?!
Lastly, but certainly not finally, I had the opportunity to run the Utah Valley Half marathon in my own backyard. Chip time 1:24.06 (first in AG), June 8th; one month before age 55. I didn't even tell my family about this race, in fact, I went directly from the awards to work 7-hours at the hospital. I did however, celebrate with many friends after the race and it was glorious!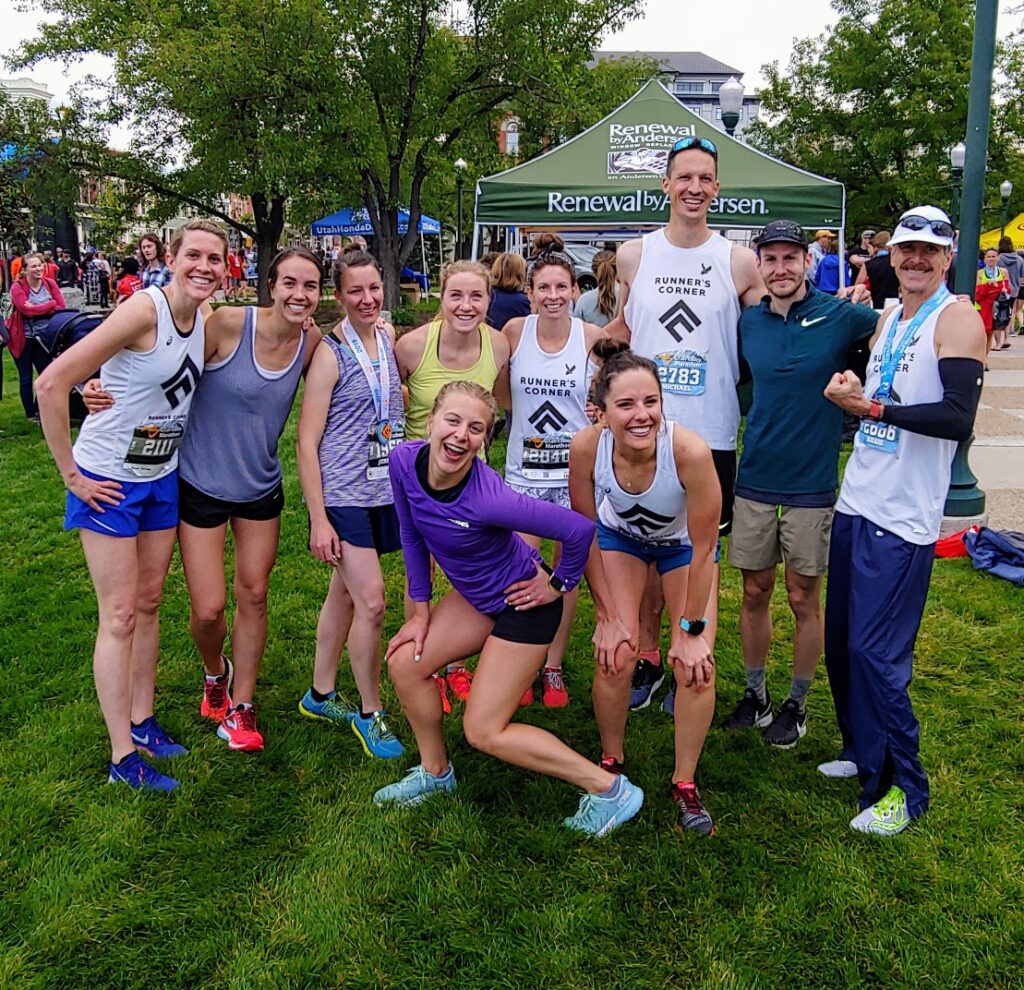 Next race is, you guessed it, STG Marathon! October 5th, 2019 with a goal time of 2:50 ish, heaven and angels (and Stazza) willing! This is my running journey (so far), which changed my life for the good in so many ways and as a Cardiology Nurse Practitioner, influenced many around me for good!! As Hawk Harper (owner of Runner's Corner and prior winner of STG Marathon), said to me once, "The Best Is Yet To Come!"
I love this sport so much and thank so many people for their caring support and I thank you for taking the time to read my story🙏😊.
Your friend in running,
Kraig L Packer