I chose the Monumental Indianapolis Marathon for several reasons. First off, it's on a Saturday. I didn't want to run on Sunday and it is one of a few good qualifiers on a Saturday. It's also a flat course and has decent weather this time of year. I didn't want to wait forever to try again after Grandma's Marathon, but I still wanted time for a good build up.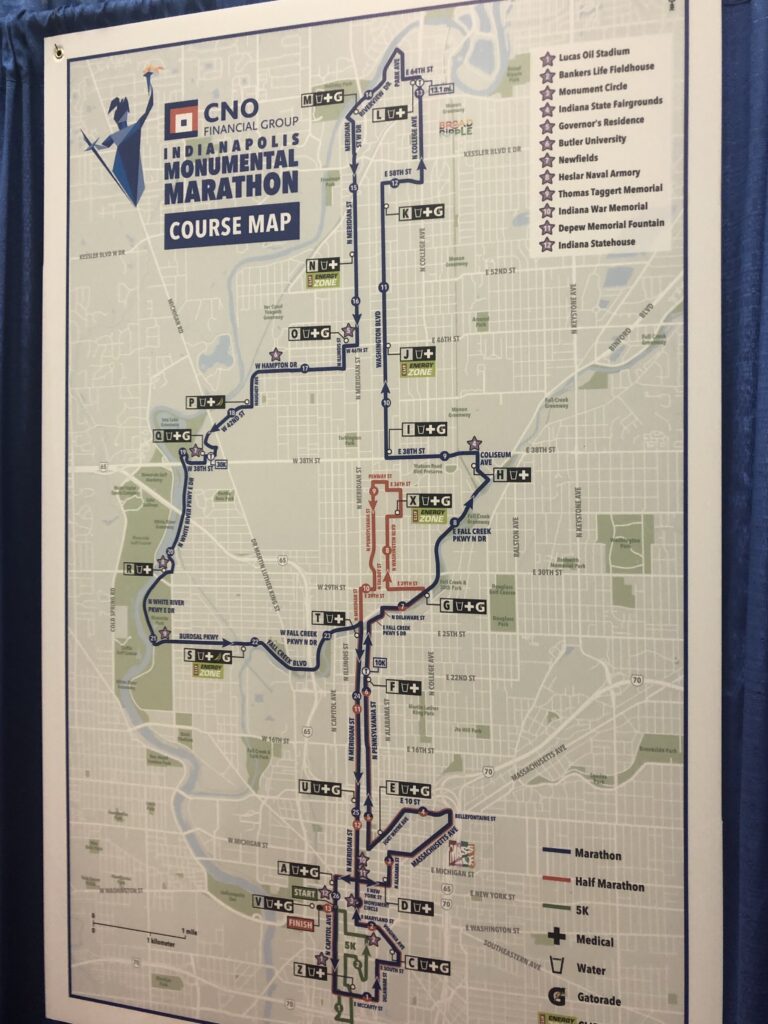 My training was pretty flawless. Every workout seemed to click. I could feel myself getting fitter with each week of training. I was also happy that I never got sick during the training as well. My body held up. I put a lot of emphasis on recovery and it seemed to pay off. I felt very confident that I would be able to comfortably hit the qualifying pace that I needed.
Despite all of this, there was a little voice in the back of my head that kept reminding me of what has happened to me in several marathons in the past. It seems I feel perfectly fine and then my body shuts down. I did everything I could to push those thoughts aside. I was so much stronger than I've been in those other marathons. I am going to be fine.
The week of the marathon I felt really good. My legs felt light and fast. I could feel my body buzzing with energy and ready to go. This was it. I was going to do this.
Dustin and I flew out to Indiana together. Usually I have at least a couple local friends racing the same marathon, but this one was just for me. I did have a friend, Sarah, who I've been able to connect with over Strava and we had a plan to stick together. She is from Missouri and she had the same goal as me. Get that qualifier!
The race expo was awesome. Listening to Deena Kastor speak was definitely a highlight. I admire all that she's accomplished in distance running as well as her attitude and resilience. She said to pick three reasons why you will succeed and commit them to memory. This is so that when the race gets tough, you can recall those things.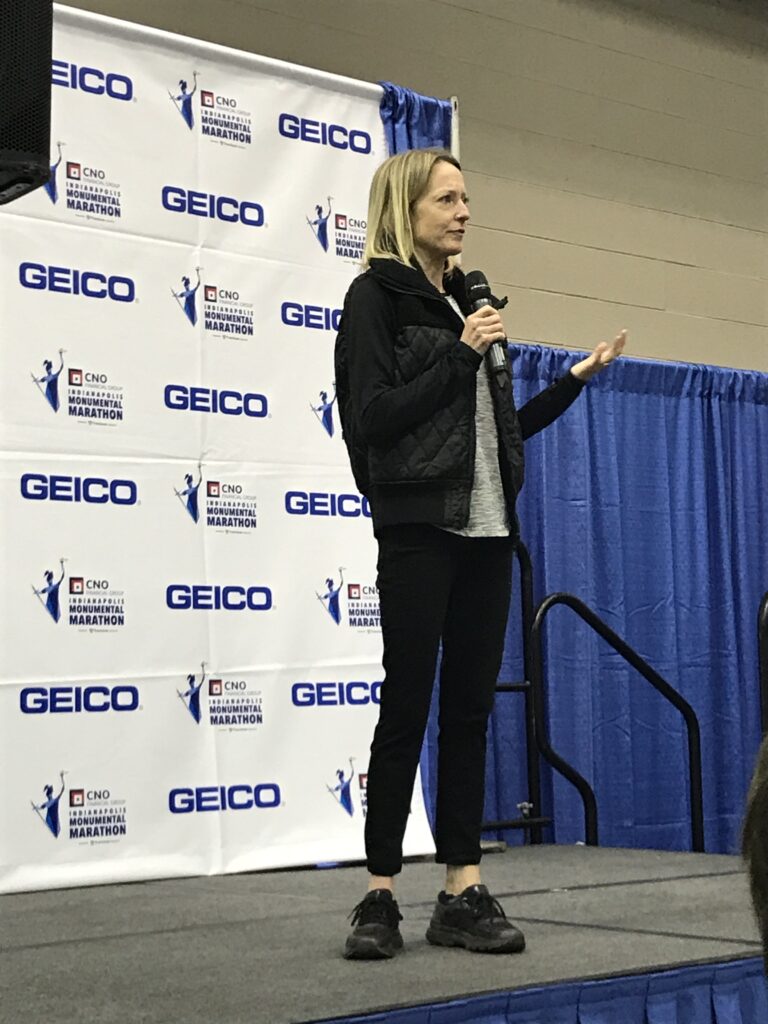 After the expo, I went to the elite meeting. There was a huge group assembled in that room. I don't think I've ever been around that many speedy marathoners in one room. It was electric! We dropped off our bottles and we discussed logistics of the race.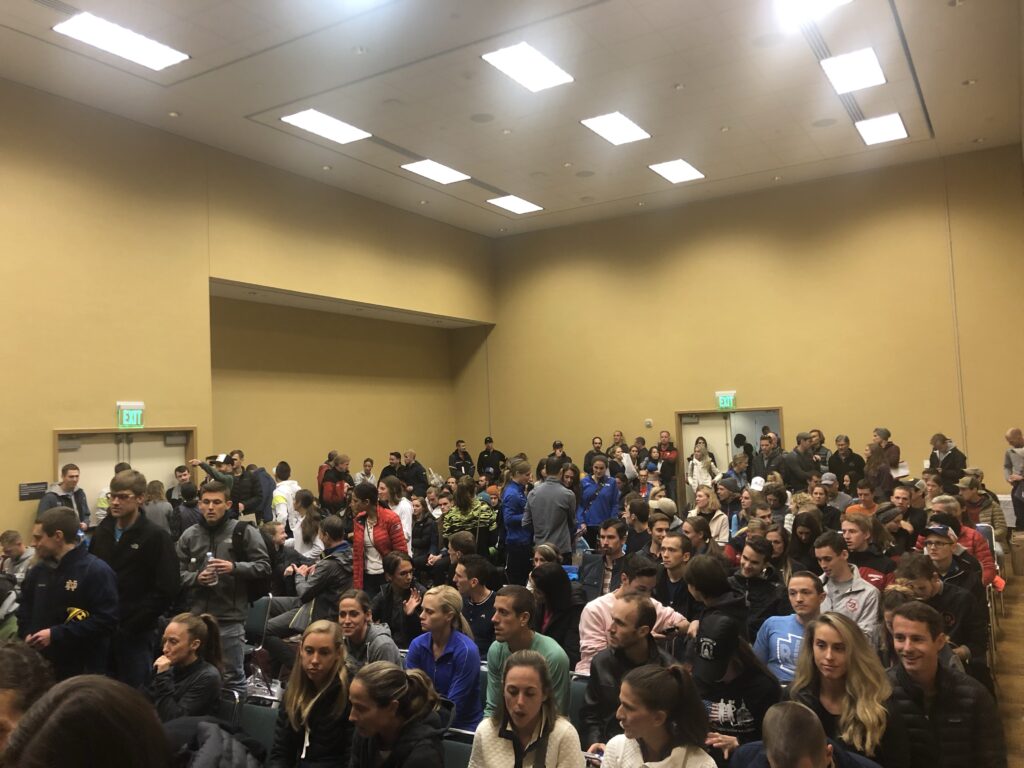 I ran into a great friend that I ran with at SUU. I haven't seen her in 15 years!! She had already qualified at the Fargo Marathon and was going for a faster time. It was so great to see a familiar face.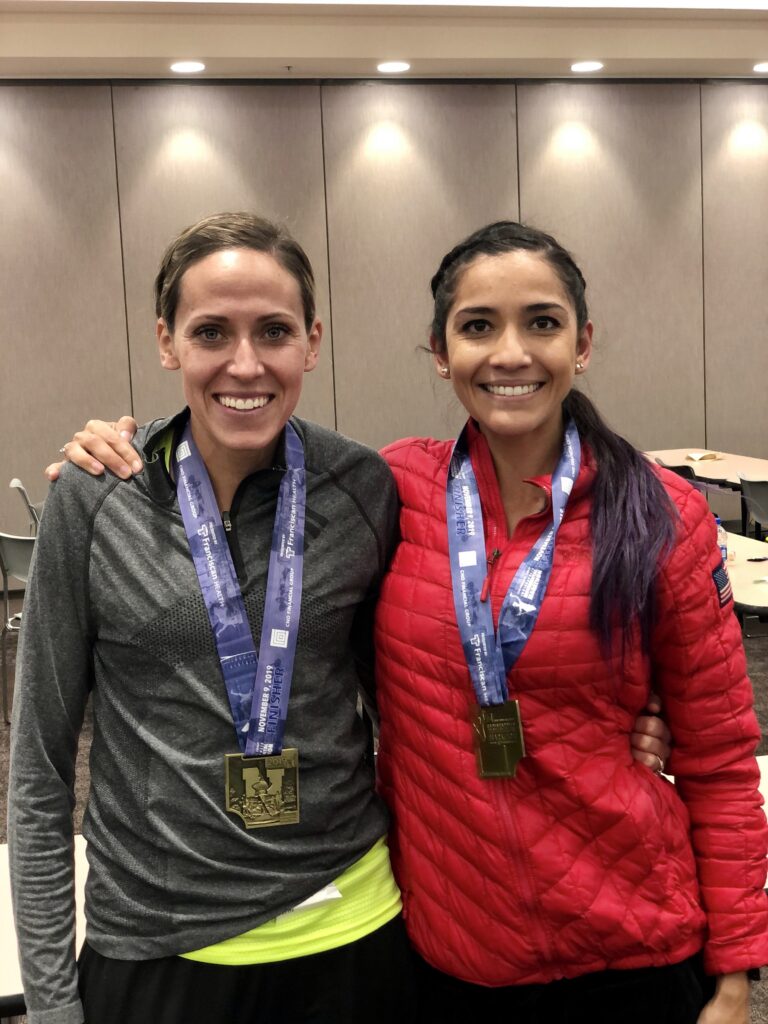 Southern Utah University back in the day!!!!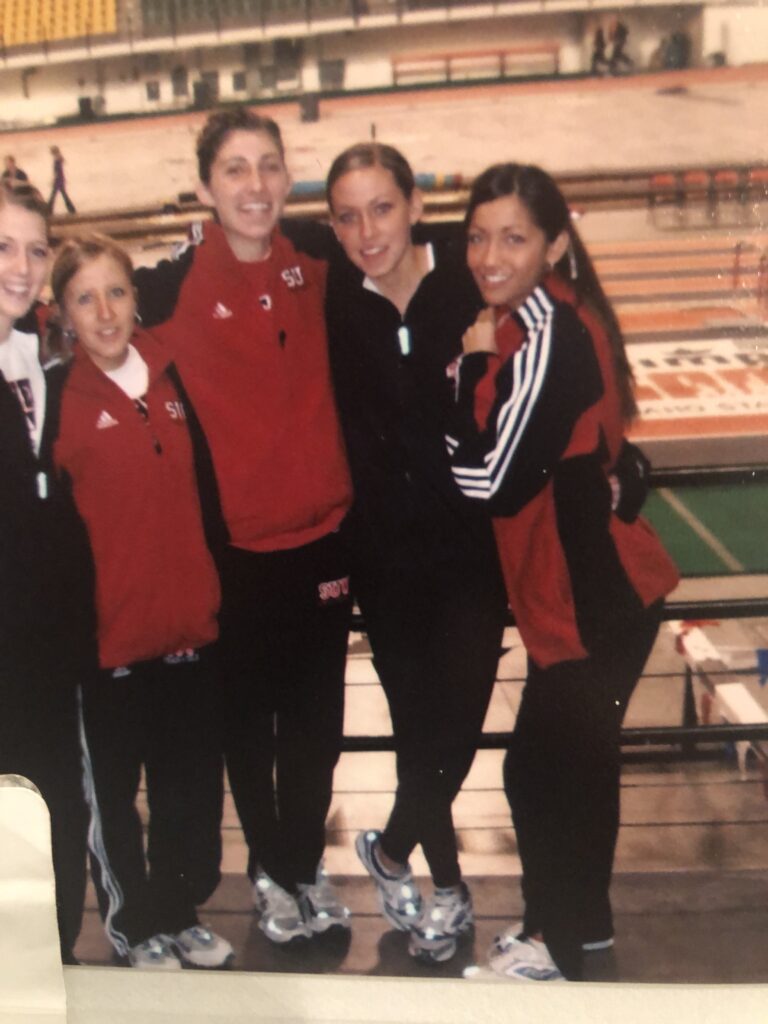 We had Thai food for dinner and then a big debate on what to wear. The weather wasn't looking favorable with the temps hovering around the mid to high 20's with a wind chill of 20 degrees and 10-12mph winds. I had gone back and forth all week long. I even asked Deena what she would wear at the expo. I ended up choosing shorts, tank, arm warmers, gloves, and a head warmer. I also used olive oil- more on that another time.
I was excited race morning. I had everything down to a science. Pre race fuel early of gluten free pancakes. Sipped on Maurten 320 throughout the morning. I made sure I got to the elite rooms about 45 minutes before the race. They had elite parking, which made things really nice. We also had two warm rooms in the building next to the starting line with warm bathrooms as well. If I thought the elite meeting was electric, this room was buzzing even more. So many anxious and excited elites deciding what to wear and what to do. Everyone had different expressions on their faces. A constant line at the bathrooms because everyone had to go 3 or 4 times.
I warmed up about a half mile with Dustin, and then got ready to head out to the start. They escorted the elites at 7:45, but I hung back for a couple more minutes. The starting line was so crowded. They started the half marathon and marathon at the same time. There were two pacers for the 2:45 OTQ. I tracked down Sarah in a pink headband. We also had a couple other girls that wanted to be in our small pack. Our plan was to go out a little conservative behind the main OTQ pack so that we could hit tangents and aid stations easier.
Soon we were stripping our gear and putting it in the elite garbage bags. They gathered it all together to bring back to the elite rooms. It was so nice to be able to wear our clothes to the last minute because it was very cold.
Soon the race started and we took off. It was very crowded, even in the elite. It made for a little bit of a slow start. I was concerned I had lost Sarah at the beginning, but she called out to me that she was right behind me. I was glad for that. Soon after we started, I heard Dustin's voice- "right turn ahead- run the tangent"… "left turn, start moving to the left". He was AMAZING. He was guiding us every step of the way.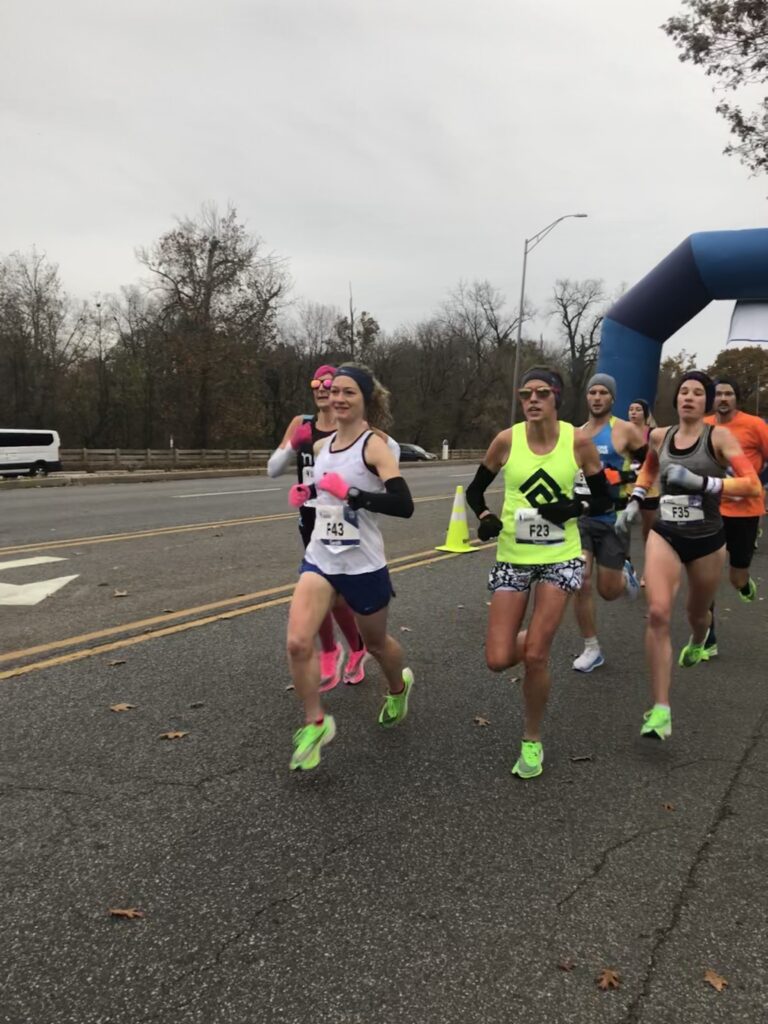 Our first mile was a 6:29. Slower than planned, but good. We then started clipping about 6:15 pace and it was very comfortable. We had our eyes on the OTQ main pack about 30 meters ahead, but were content with our small pack that had turned into about 10-15 people. The miles moved by quickly. I decided to split my watch at each mile marker so I could have the exact mile splits and not worry about GPS problems. I can't remember much besides I felt good. I could hear everyone around me breathing hard. I didn't feel like I was breathing at all. This is a good sign!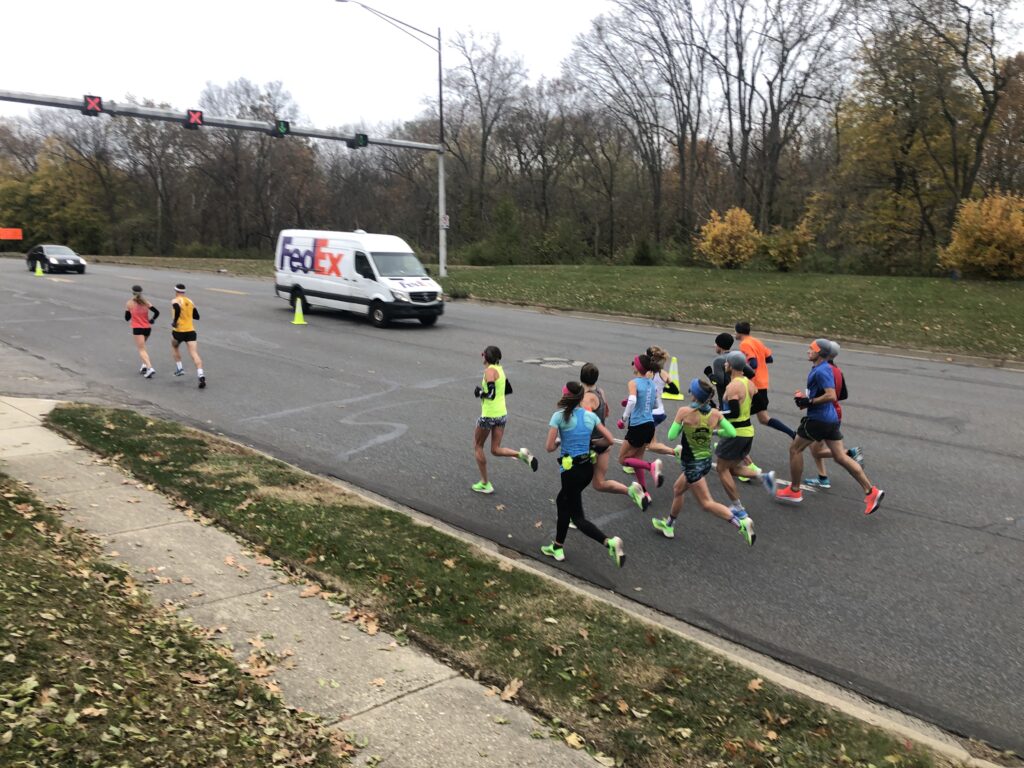 I took 5 oz of Maurten I had carried with me about 5k in. At 10k in, we had our first elite aid station. The tables were in the middle of the road and women went left and men went right. Table 4, position 6 is where my bottle was supposed to be and luckily, it was! I grabbed it smoothly and drank. It was really cold-took me by surprise. (6:29, 6:15, 6:15, 6:13, 6:11, 6:12).
When we got to mile 7-8, I started to feel a little bit cold. We weren't in the middle of all the people anymore. The half marathoners had turned off around 6-7 miles and we had started to exit the main part of the city. Despite feeling cold, the pace felt easy. I had carried another 5oz of Maurten that was in my Senita pockets. I took that a little after mile 9. The roads from the beginning of this race were very uneven. There were several times I thought about how bumpy the surface was. Around mile 10 we were running up a hill and around a turn. I twisted my ankle really quick. A few people asked if I was okay. It was fine and I just ran it off. I remember being surprised when we hit mile 11. The miles were flying by faster than they ever had in the marathon. (6:11, 6:15, 12:33 for 2 miles)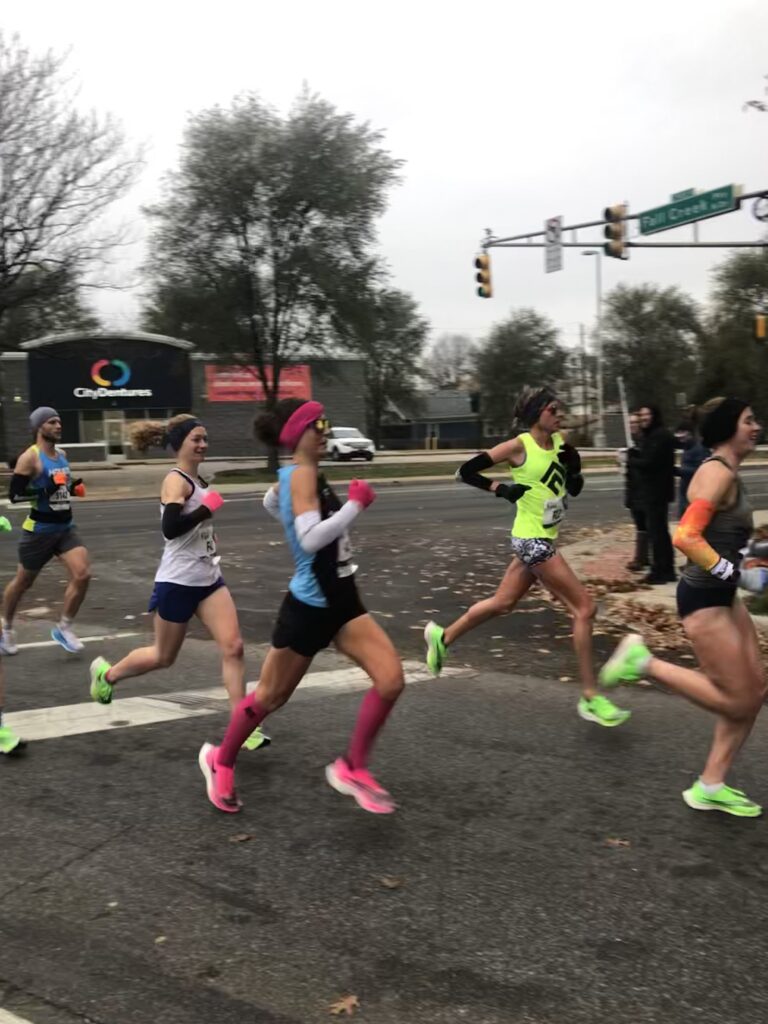 Around the 20k mark is where the second aid station was. The bottle grab was pretty seamless. I drank it and handed it to Dustin. Might as well save one of them. Soon after that we saw the half marathon sign up ahead. We were exactly where we needed to be. I came through the half just over 1:22. (6:08, 6:18, 6:16)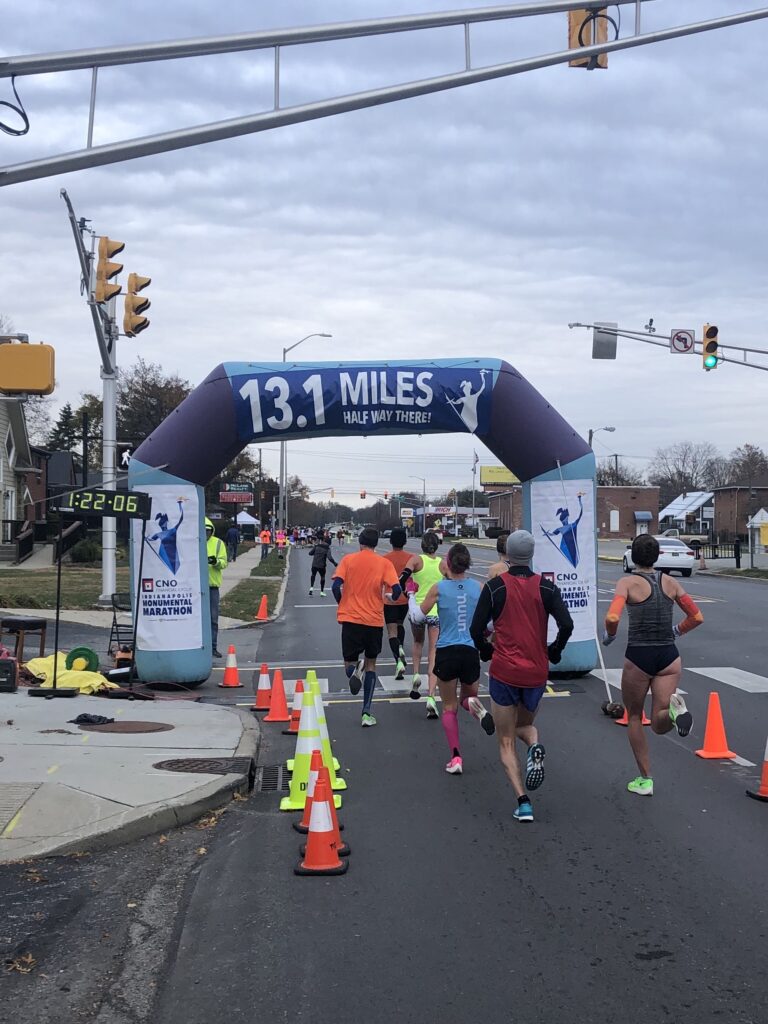 After this, it seemed like we hit some more rollers and wind, but once again the pace never really bothered me. I was working, but not too hard. I was usually pleasantly surprised when I looked down and saw my splits were continuing to be consistent. Dustin left a few miles after the halfway point. I had told him I felt strong and I was good to go. (6:17, 6:16, 6:20, 6:17, 6:22, 6:24)- through 19
I was so comfortable through 18-19 that it was a shock when immediately I stopped feeling okay. Once again, just like at Grandma's, my legs flipped a switch. It wasn't a gradual decline either. It was suddenly like my legs were not working. They started to burn. Within a mile and a half I suddenly stopped. It was around mile 20. I had to shake out my legs. Why were they burning?? I shook them out and started again. The same thing happened. (6:51, 8:10, 8:14, 8:18)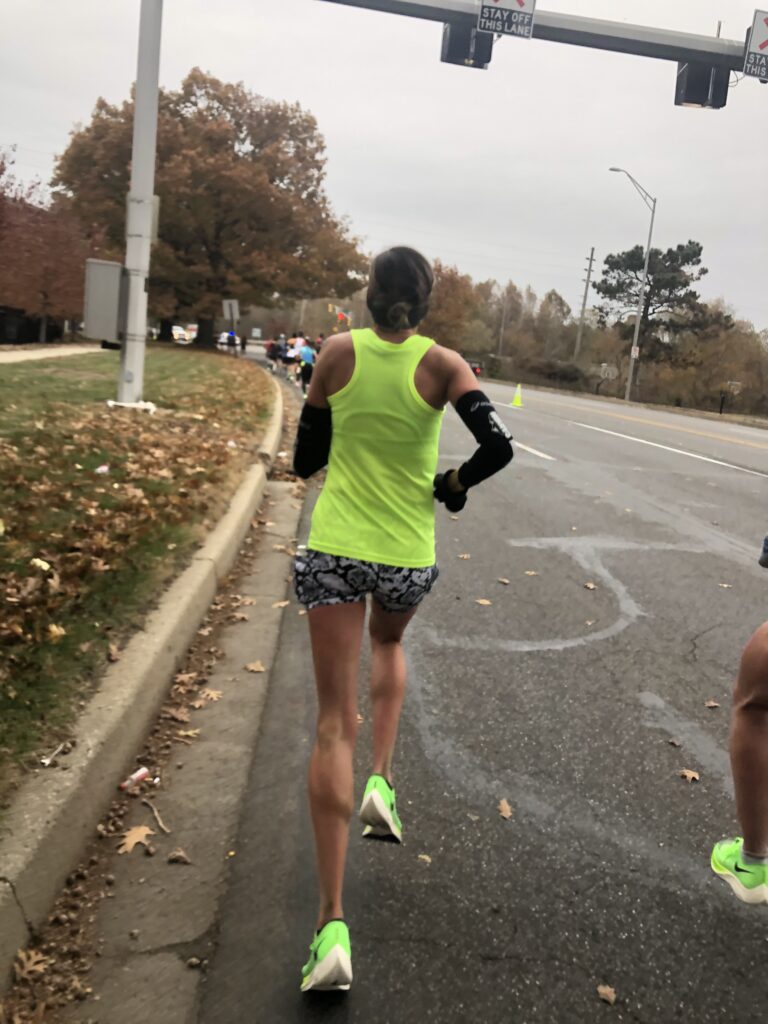 It only took a few more minutes to realize my dreams were quickly slipping. I know I have a lot of fight in me and no matter how hard I fought, my legs wouldn't cooperate. It got to the point where I would shake them out for about 20 meters and then try to run a quarter mile or a little further. Why were they burning so much?? I remember thinking- I wonder when I will see Dustin. He's going to be so sad. Weirdly I wasn't sad at that point. It was more of a determination to get my legs working so I could finish the dang race! Walk a little, jog a little, walk a little, jog a little. People were flying by me and encouraging me, but it didn't help much.
Finally with just a couple miles to go, Dustin appeared. I stopped immediately and asked if I could have a hug. He didn't respond well to that- he was like – "TAWNY! What are you doing. Let's go. Let's get a PR!" So I continued to painfully follow in his footsteps. Running more than I was before in longer stretches, but not much faster. The pace I was running was my slow cool down pace after a hard workout. My legs had nothing. They continued to burn. (8:13, 8:03, 7:52).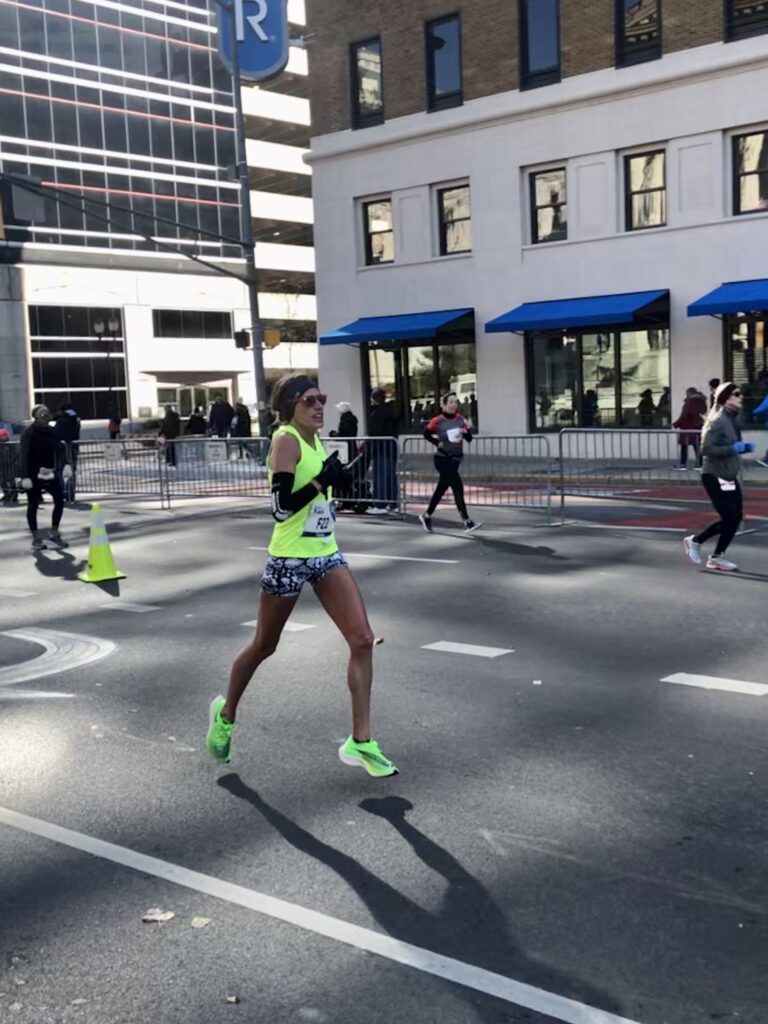 I think one of the saddest points of the run was when the 2:55 pacer passed me with a mile to go. He yelled for me to come with him. In my head I said, "I promise I would come with you if my legs would cooperate. They have nothing." I fought with everything to fight off the burning of that last 1.2 miles. I crossed the finish with a 2:56. I was so glad to be done.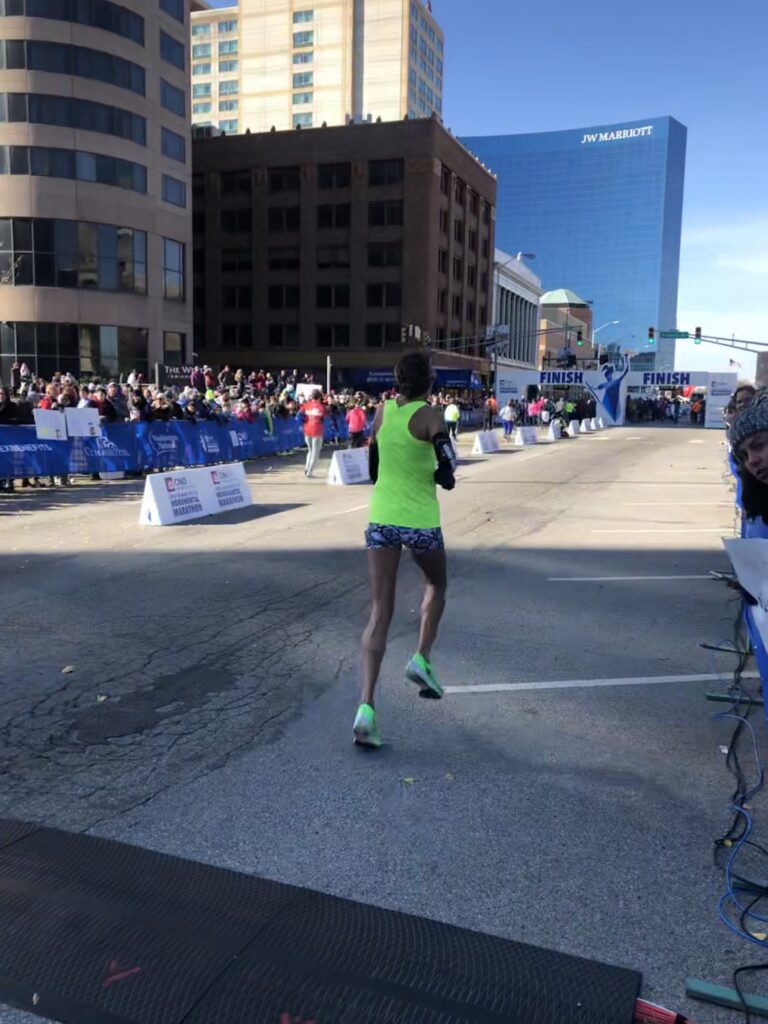 I didn't feel sad at that point. I wasn't even close. I had no clue what had happened. I've done a 24 mile run and never had my legs do that. The marathon has not been kind to me. I was numb. I took my medal and wrapped the space blanket around my shoulders. I grabbed a free beanie, chocolate milk, chips, and whatever else people handed to me. My stomach wasn't sick. It was completely fine. I headed back to the elite room.
There was a completely different energy in the room than before. Some girls were clearly happy with a successful day. Other girls were upset or injured. I didn't feel anything. I took some pics and chatted. My friend from SUU had run a 2:42. She was happy.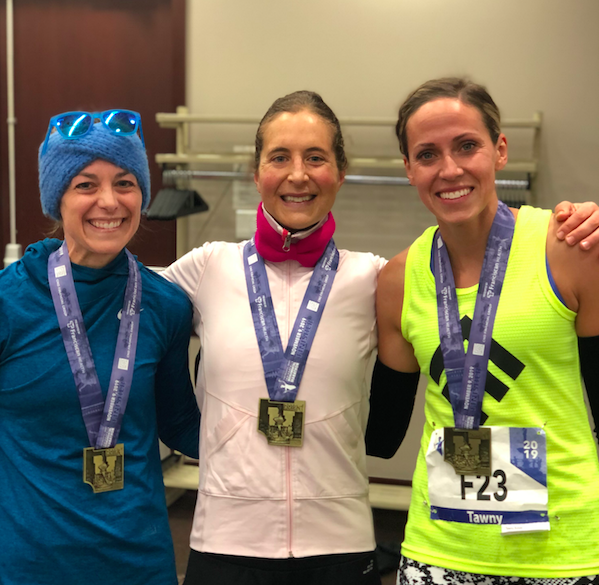 We headed back to the hotel. Once I got in the room, it hit me. I started to cry. I thought back to all the work that I had put into this race. The early wake up calls and the heart I had given each and every workout. I thought about all the sacrifices I had made to get there. I thought about the support system and everyone who has supported me in this crazy journey. My heart hurt. The hardest part was that I had no explanation to what happened. The marathon had broke my heart for the 8th time. (Only one hasn't broken my heart.)
It's been a few weeks now. The love and support I have received has been the best thing ever. Once again, I have learned so much from this failure. Just like in the past, I've learned more from my failures than my successes. Marathon- can we just be friends? I've given you so much. It's time for you to give back.