The St. George Marathon is the best marathon in Utah. They do such a great job with it and it is a fast and beautiful course. I decided to sign up with my two brothers at the last minute and see what I could do after a solid few months of training.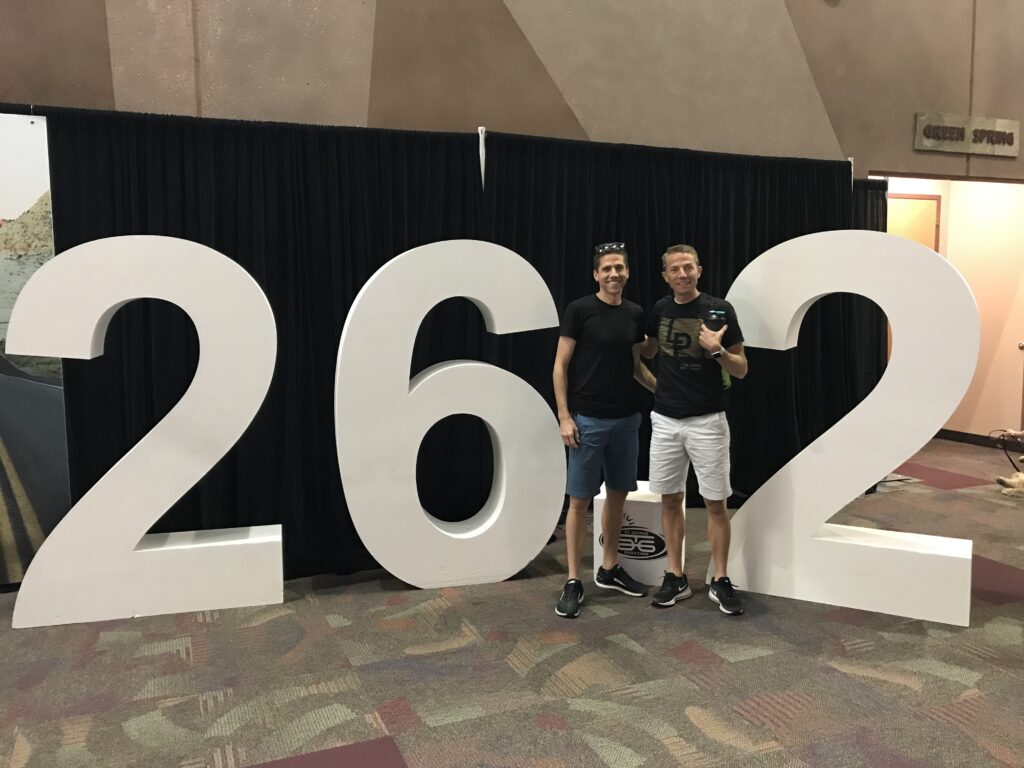 This was one of those days where everything just seemed to click. It was a challenging two weeks leading into the marathon. I had a couple little aches and pains in my legs. I had a lot that I was dealing with, with work, and I knew I needed a good race.
I felt like I had a good game plan for food and I had elite bottles, so I could have my Maurten bottles set out along the course. As far as fueling the morning of, I ate a banana and two gluten free pancakes about two hours before the race. I then got ready and shot out the door to the shuttle from our hotel. We were walking to the buses and saw two charter buses. We decided to ask if they were for the elite runners, but guessing they weren't. They said "No, but go ahead and jump on, there's plenty of room!". So, luckily, we were able to be on a nice comfortable bus on the way to the start and stay on the bus until 6:20 to stay warm. The race started at 6:45.
I sipped on Maurten 320 for the hour leading up to the race and that is the only fuel I took besides my early breakfast.
Once we got off the bus, we headed over to the elite corral. It was nice to have no lines at the bathroom. We chatted with everyone that was hanging out in the corral. It was a great surprise to have a fairly stiff tail wind that we noticed as the flags were flying hard. We warmed up a little, about a quarter mile, and then we jumped on the line.
With the help of the wind, the first few miles were pretty relaxed. Ryan (my brother) and I decided to hang back and keep an eye on the pack of 5 or 6 in front of us. We watched them for the first 2-3 miles and then I decided that I needed to go jump in the pack. Ryan held back, but I surged up and caught them to stay in contact with the group. The plan was to go out at a 1:13 – 1:15 through the halfway point and then see what the second half had to offer. The second half of this race is way faster than the first and the best way to run it is with a negative split.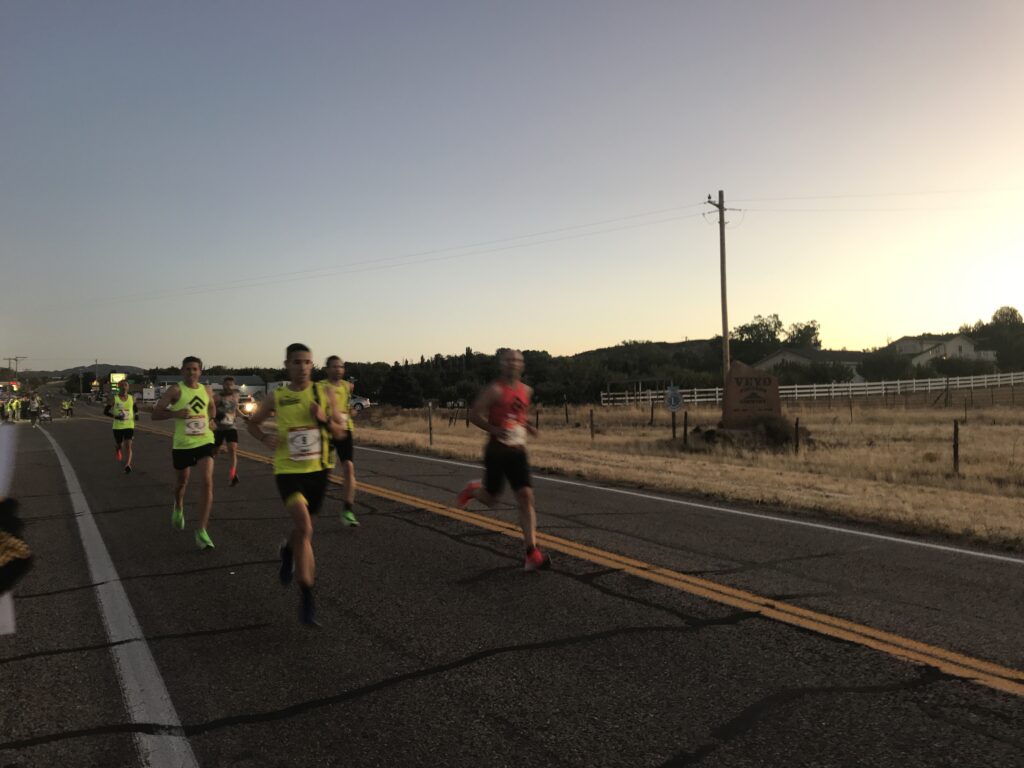 I absolutely loved having the aid stations. Every three miles, I had 5 oz of Maurten 320. They were super great at calling ahead and making sure my bottle was ready. It was pretty much seamless through each of the six aid stations.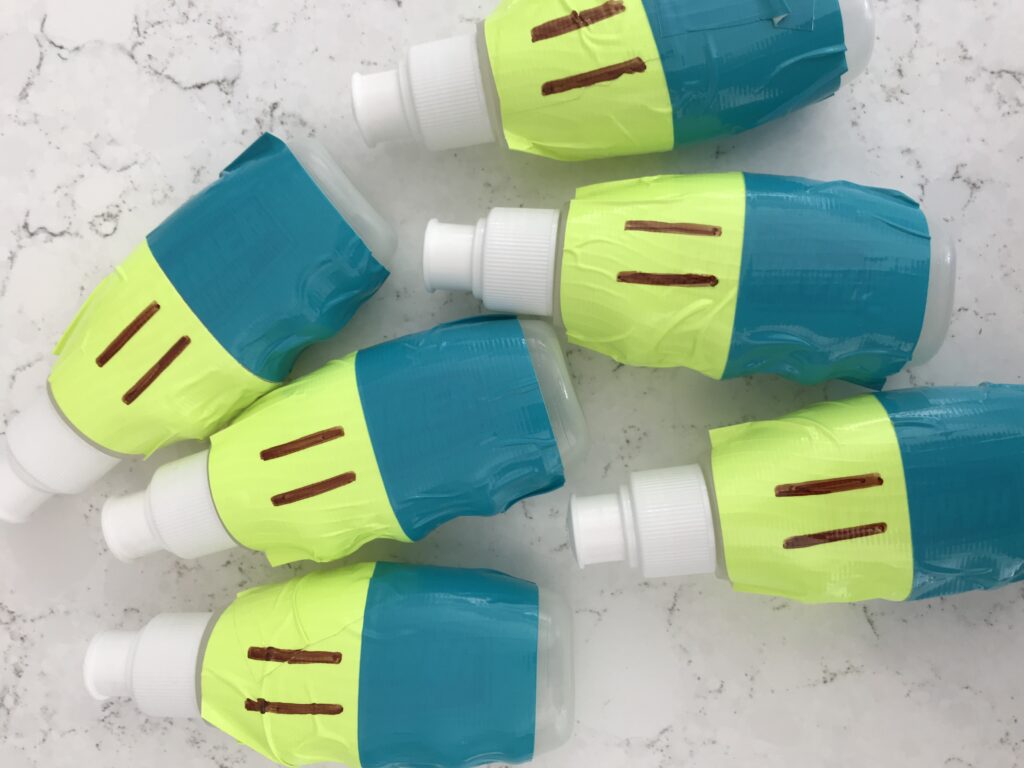 As we were running through the first 7 miles it was quiet with not a lot of spectators. There was a little bit of chatting in the group. I tended not to say much. As we got into Veyo, it was a lot of fun to see Tawny and other family and friends cheering. I ditched my gloves and arm warmers to my nephews because I hadn't seen Tawny yet. She was a little ways past the aid station at the end of the crowds.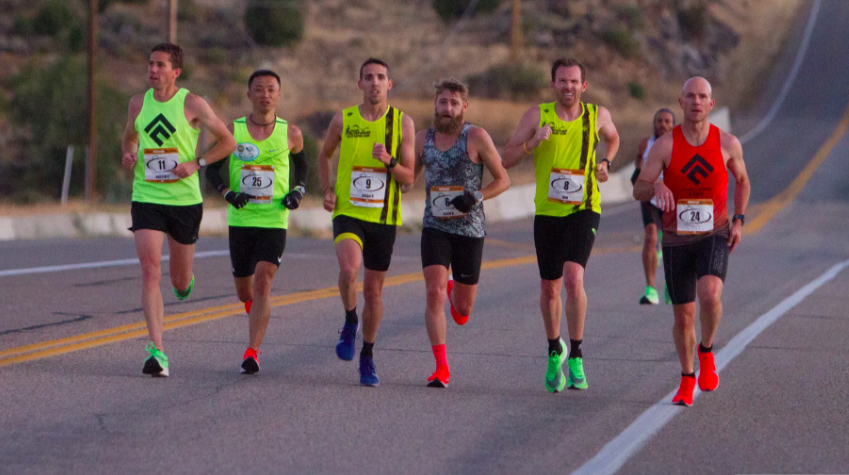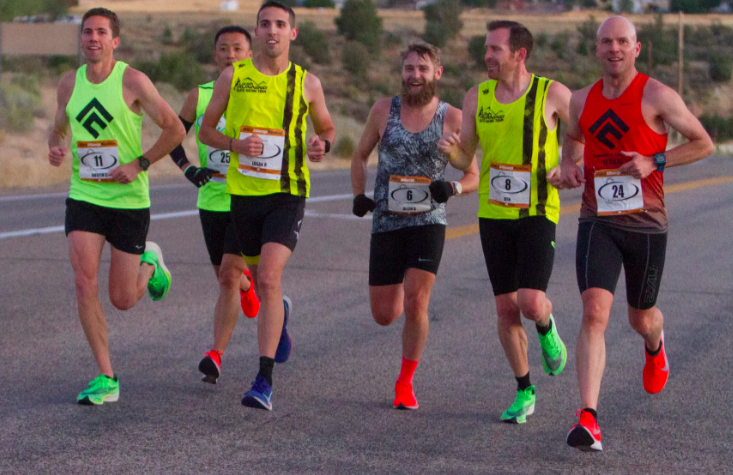 We then started the climb up Veyo. As we were climbing up, I made the comment to the group that we were a little hot. Scott said to just keep it steady and I backed off with Ben Van Beekum.  Last time I raced this marathon I took the hills too hard and paid for it later. Ben and I had some positive self talk and made it to the top a little bit behind the others. Ben started to fade and I focused on the tangents to catch back up to Scott and the others. I caught them and we continued to move. The pace was perfect and things were clicking. I remember being a little cold during this and commented to the group. They disagreed. About five minutes later the sun came out and it was nice to have the warmth. My mind always plays games with me during the middle miles and I lose track. As I got to mile 11 and 12 I thought it was 13. It didn't affect me negatively, but I just kept moving on to 13. As we got to 13 we were exactly on pace with a 1:13:15. Logan thought we were a little slow, so he started to pick it up. I mentioned to Scott we were perfectly fine and there was still a lot of race to go. We would catch him on the last 5 or 6 miles. So we continued to keep pace.
The body felt good and I was really confident. Everything was just rolling and going. Coming down Snow Canyon we were fast through one of the miles, but Scott said it was just perfect for that mile. We continued to move and got to Winchester (19). Things still felt good. Scott and I were still together. Dan Bishop had faded off. As we got through mile 19, and our second to last aid station, I grabbed my bottle and my body was still loving the Maurten. I drank it down and then naturally started to pull away from Scott.
I saw Logan out there a few hundred meters ahead. I knew I could get him and started to zero in on him. I noticed the pace picking up and looked down at my watch to see a 4:50 pace. I backed it off to about 5:10, but then noticed I kept speeding up to 5:05 pace. If you run the first half conservative, this downhill is where you can make up a lot of time. I decided well, it's now or never, lets just start moving. So I passed Logan and decided to do it with authority to help him know he couldn't stay on me.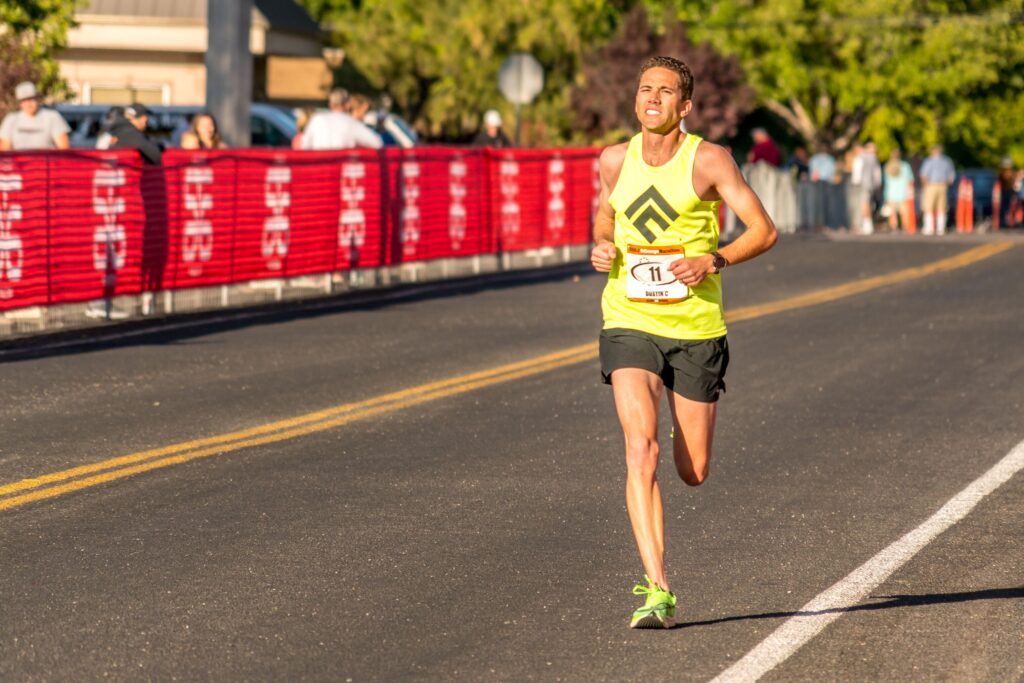 I kept running tight tangents and saw Hawk Harper with three miles to go. He said Fritz (3rd place) was out in front of me and was fading hard and that I could catch him. Killer instinct set in and I started to chase. As I turned onto the diagonal, I got a glimpse of him. He was a half mile ahead or so. I surged hard and the body was still firing on all cylinders and felt good. As we made the next turn, I could tell Fritz was falling back, but I was out of time. I just kept working, clicking off 5:05-5:10.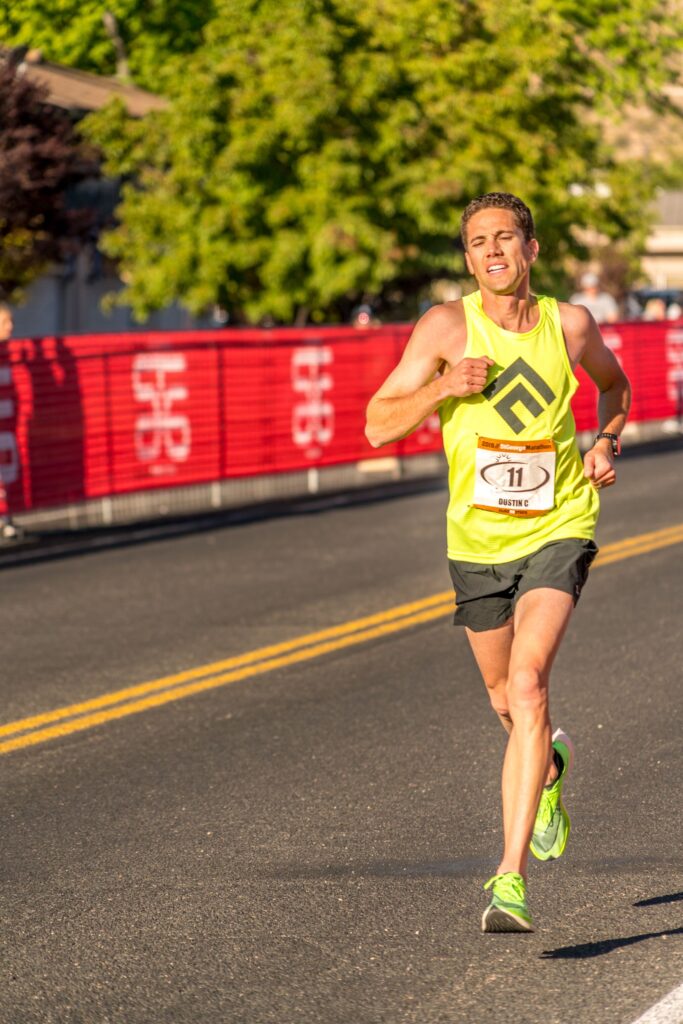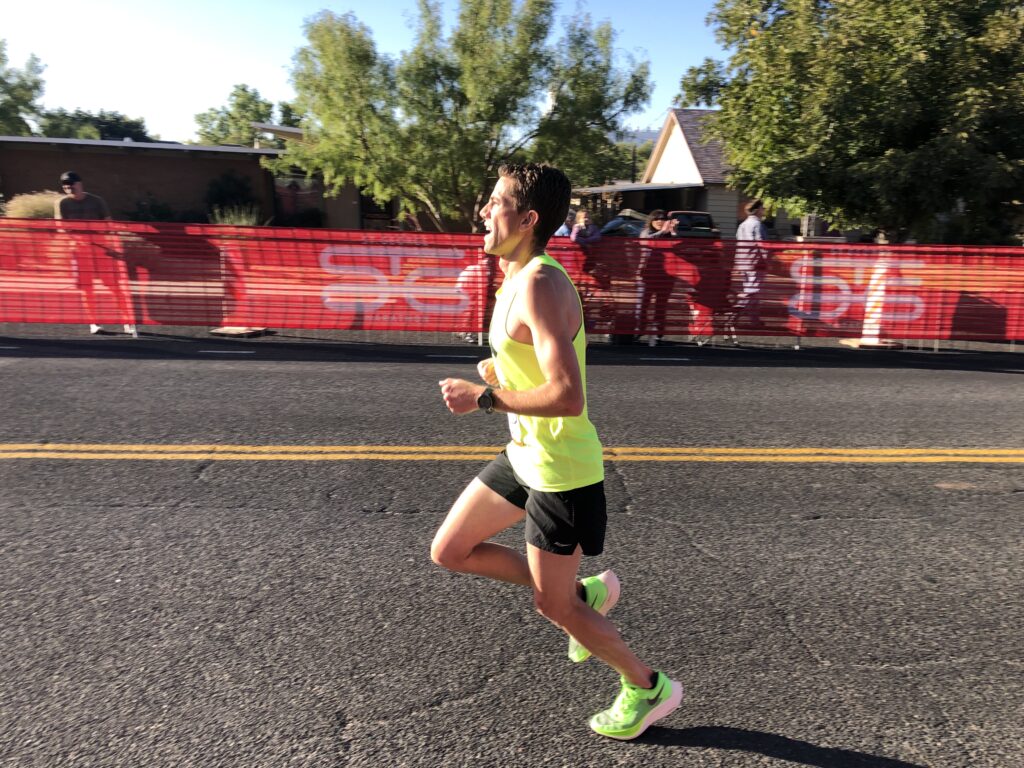 As I was making the last turn onto the homestretch I felt my hamstring twinge. This was the first sign of fatigue, but I could now see the homestretch and was trying to see the time. I've made the mistake in the past of not paying attention to time and having it throw me into another minute by a couple seconds. As I saw 2:21:40, I knew I really had to surge to stay under 2:22. I gritted hard and started to sprint and crossed the line at 2:21:54 and 4th place overall.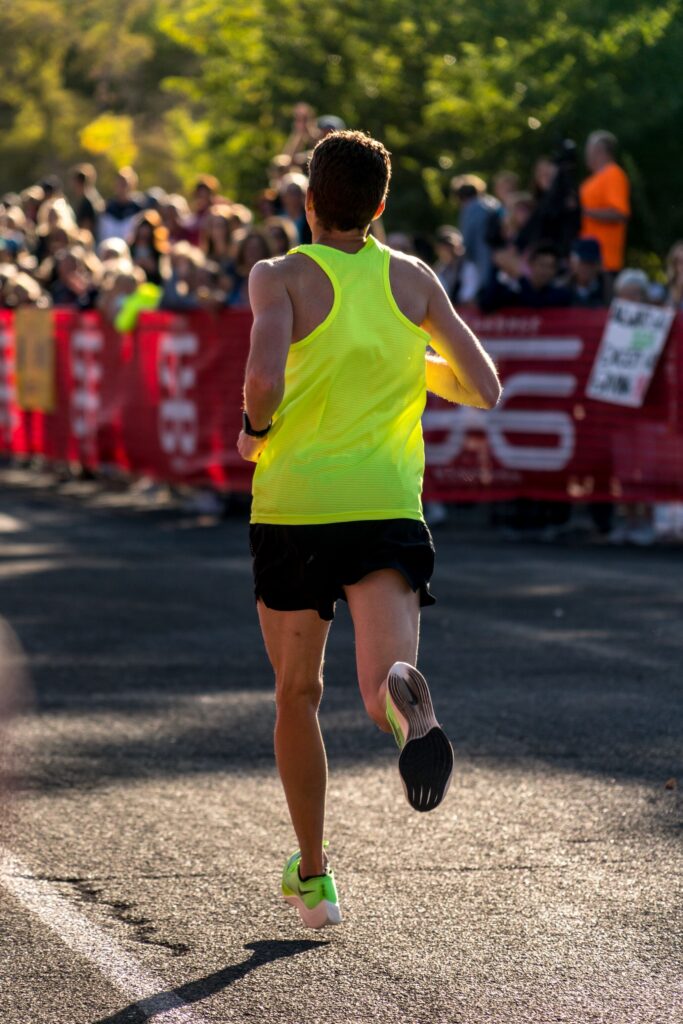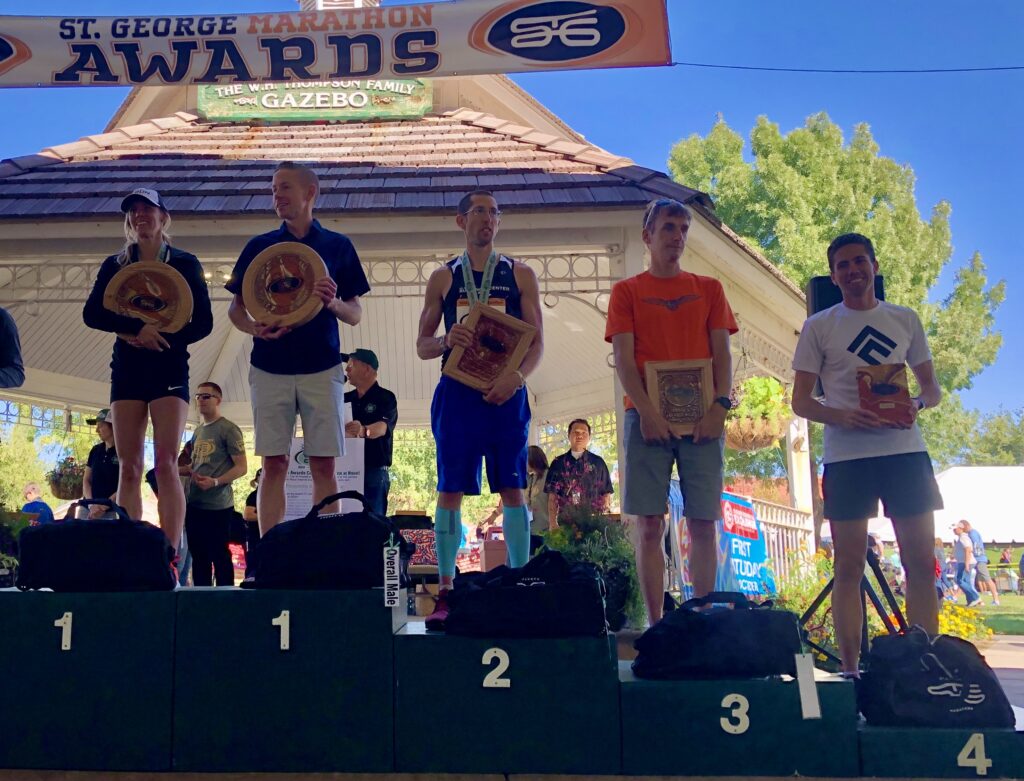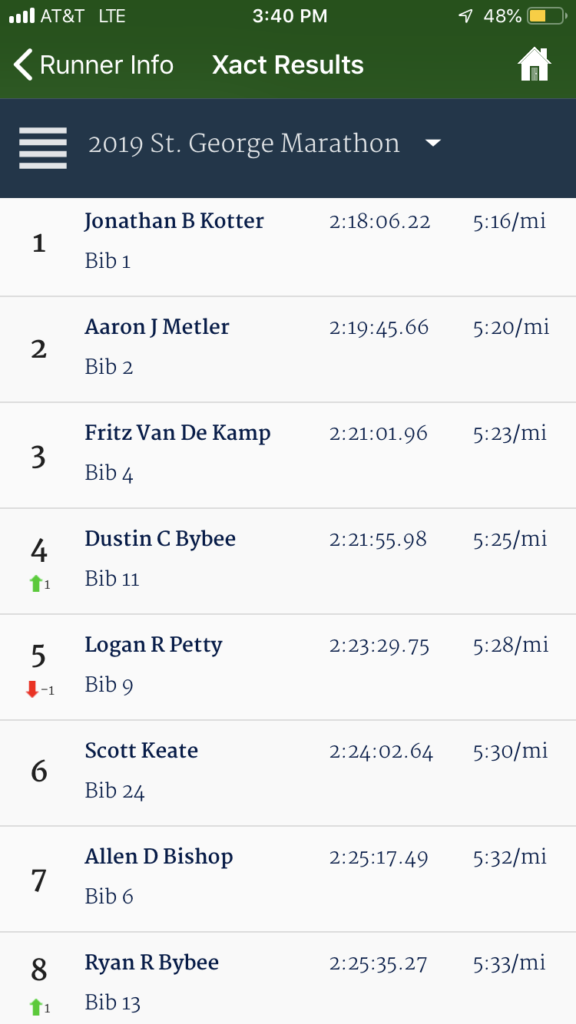 All in all, it was a pretty incredible marathon. I don't know if I've ever had a race where I've had zero regrets and felt like everything moved how it needed to. This was one of those races. Nutrition was perfect. I took a Run Gum at Mile 17 and Mile 22. I do believe it made a difference. I loved my shoes- I wore the Nike Next%. I appreciate Runner's Corner and their support. We decided to run in their fluorescent jerseys because they matched our shoes and we stood out so family could pick us out in the crowd. Ryan ended up finishing in 8th place with a 2:25 and Tod finished with a 3:01. Personal records for both of them. This was also an 11 minute PR for me.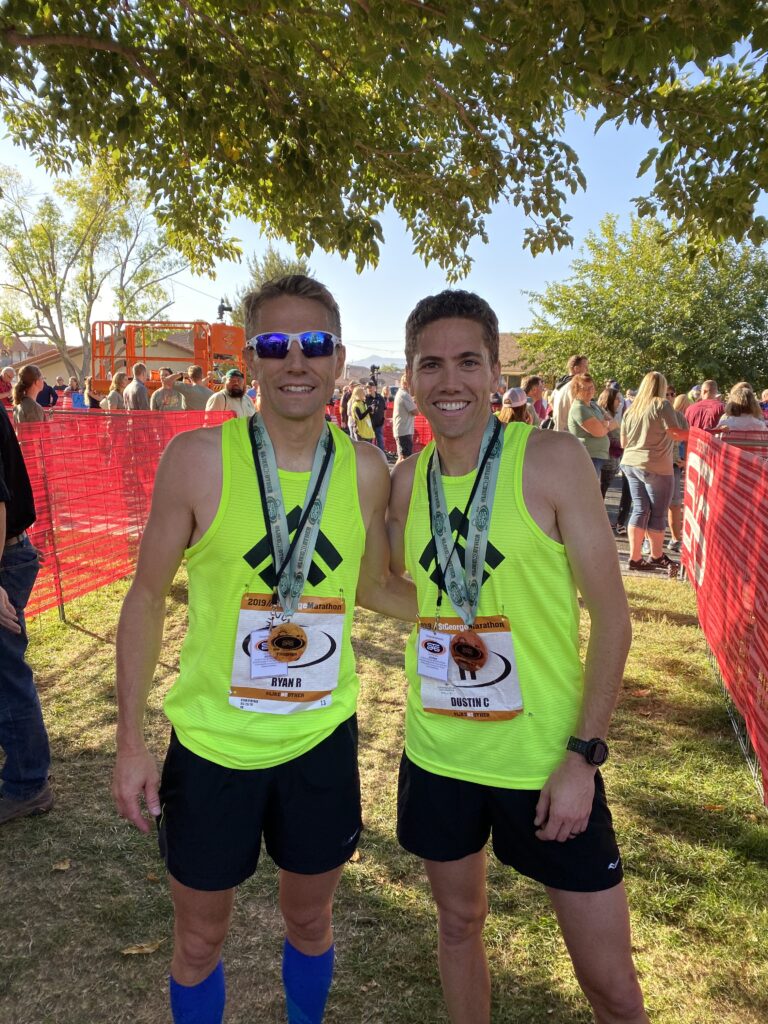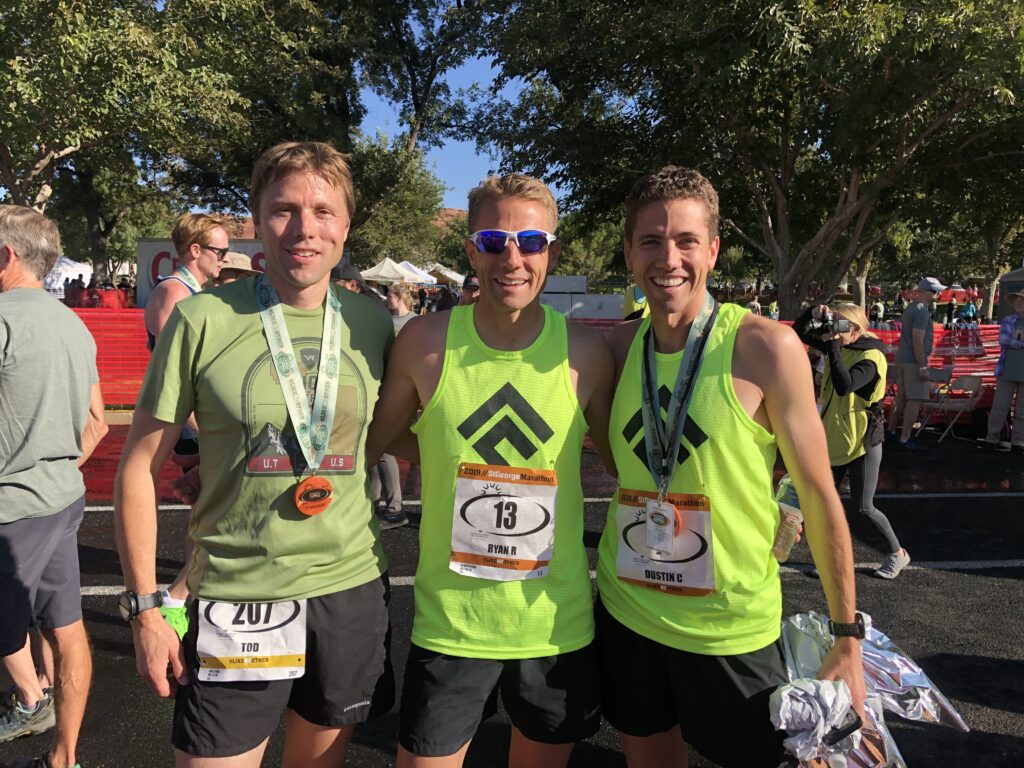 Can't say enough about all the phenomenal support from Tawny, John Starret (my coach), my brothers, Ryan and Tod, and all the other family and friends. Not sure what's next. I'm signed up for Boston 2020 with Tawny and my brothers. We will see where that goes.