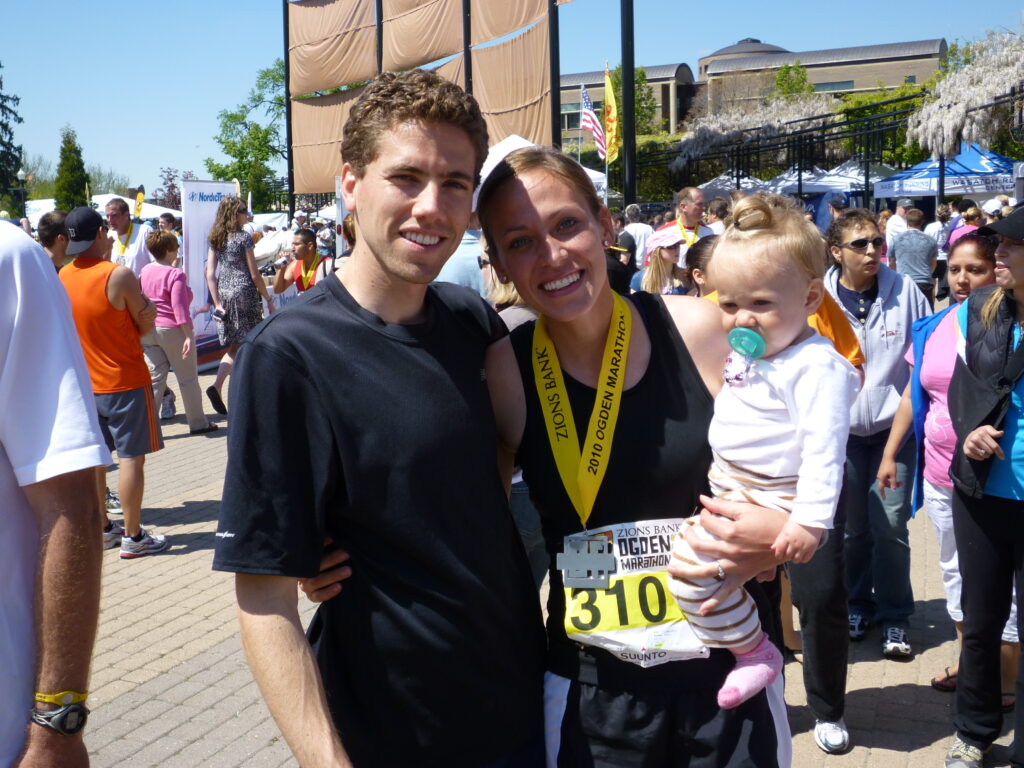 Marathon 1- Ogden Marathon 2010
Details- 10 months post first baby. 1:30 at halfway- and then deep into the pain cave. Stopped at mile 21 to cry for a bit to Dustin, then toughened up and finished. I said I would never do that ever again. It hurt so bad.
Goal: sub 3 hours
Finish Time: 3:14:28
What I learned-
1. One 18 mile run is not good enough to prep for a fast marathon.
2. Marathons are freakin hard.
3. Don't have a serious time goal for your first marathon (unless you are a professional). Go out and enjoy the experience.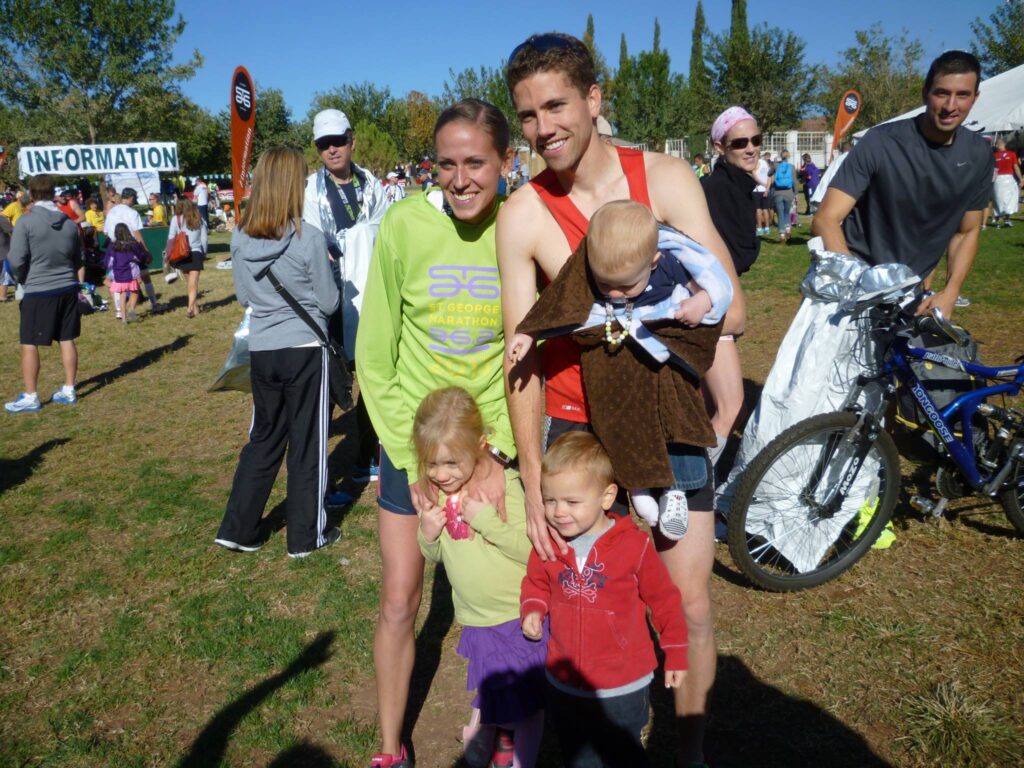 Marathon 2- St. George Marathon 2013
Details: It took two more kids to brave another marathon. Ran it 8 months post third baby. Laser focus, good prep, and smarter running. Only marathon that I've ran that has turned out the way I wanted.
Goal: sub 3 hours
Finish time: 2:58:51
What I learned-
1. Goals are magical and powerful.
2. If you feel good at mile 18, it doesn't mean you should pick it up to a faster pace. It also doesn't mean you will feel good later. Mile 20 is where the real race starts.
3. It is possible to feel good in a marathon. I keep holding onto this, as it's been awhile.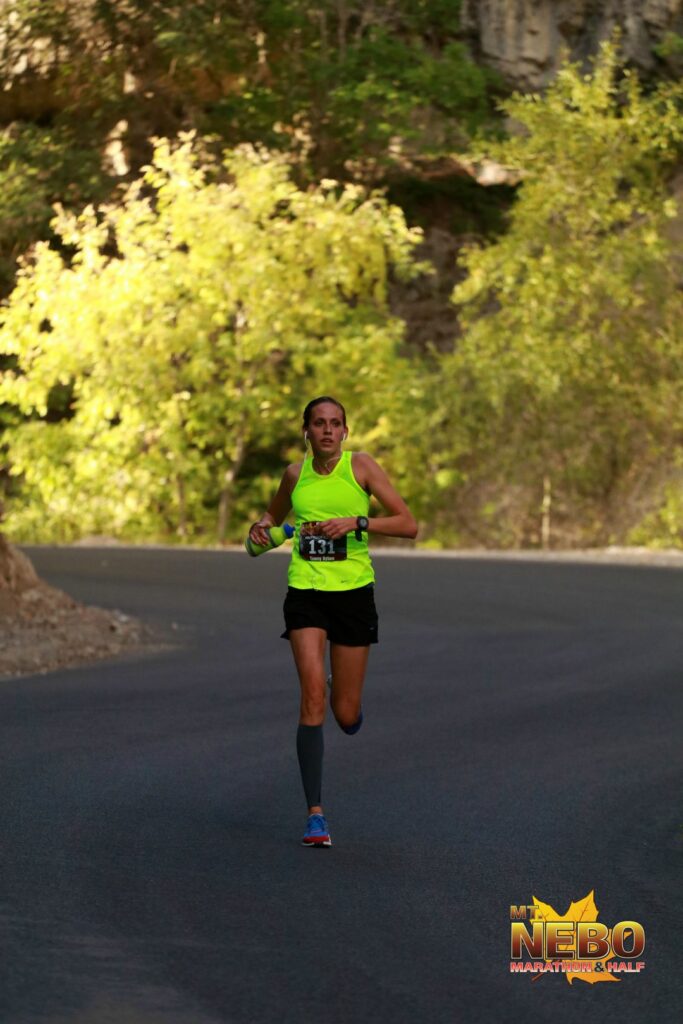 Marathon 3- Nebo Marathon 2016
Details- One year after 4th child. IT band problems and health problems leading up to this race. I wasn't able to complete all the long runs. Gorgeous, but nauseous and knee pain. Only bathroom stop I've made in a marathon. Walking and running through the last 6 miles. Barely held on to first place somehow by 20 seconds. Threw up at the finish multiple times.
Goal: BQ
Time: 3:23:47, 1st place
What I learned-
1. IT band problems are terrible. Don't start a downhill marathon if you have them. It took me 10 months before I could train again after this marathon and I couldn't run Boston. That was the point of running the marathon.
2. Altitude sickness is real. Half the race is above 8,000 feet and I wasn't prepped for that.
3. Don't give up even if you have to walk a little bit. I had no idea 2nd place was only 20 seconds behind. You never know what it will mean in the end.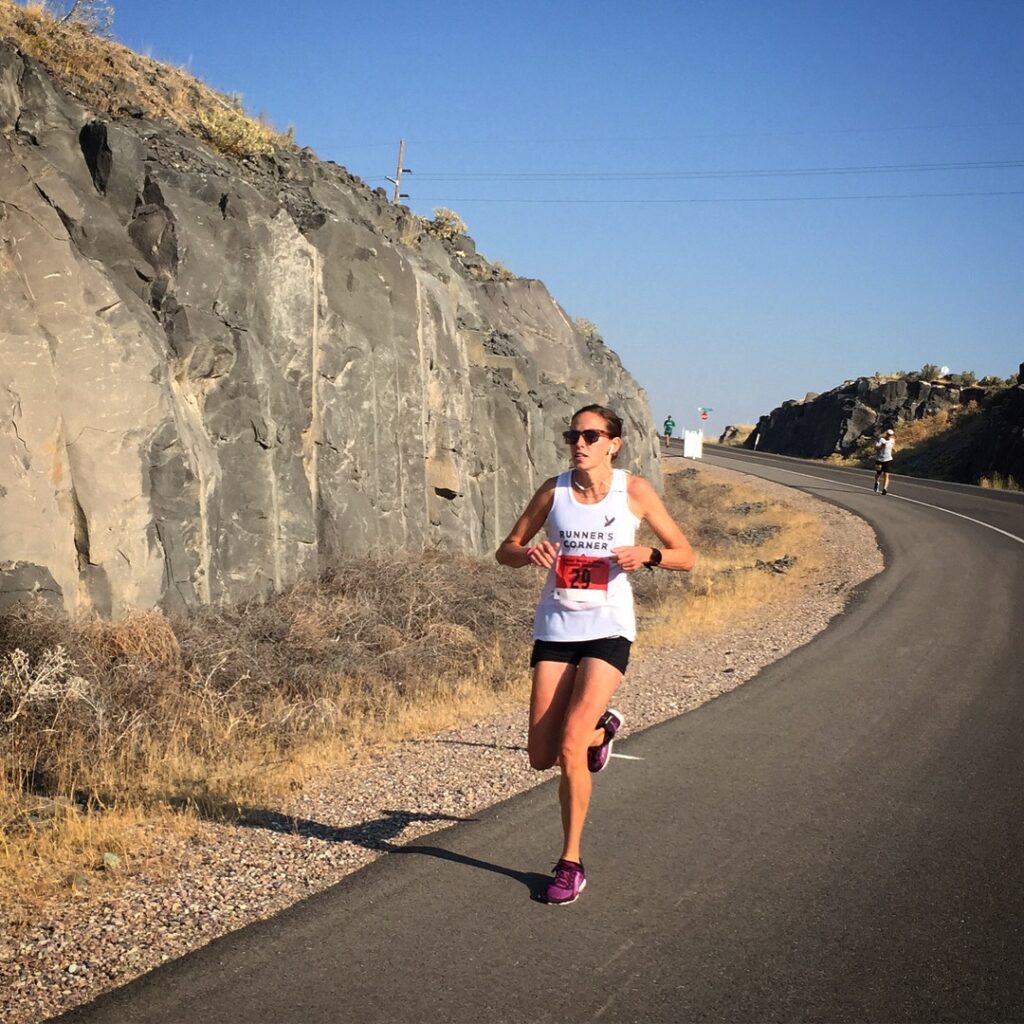 Marathon 4- Pocatello Marathon 2017
Details- My worst marathon to date (and I've had some bad ones). I forgot my oatmeal at the hotel and didn't have my preface fuel. Didn't fuel well during. Felt fine and comfortable (even chatty) till halfway. Mile 14 hit a huge wall. Like a giant brick wall. If I didn't have to hit BQ I might have just given up.
Goal: Another sub 3 and hopefully win!
Time: 3:24:51
What I learned-
1. Fueling. Don't start a marathon with a half empty tank. Fuel early and fuel more than you think.
2. Sometimes races go really bad and it's hard to explain why. It's just one day in a big training cycle. I did 20 mile runs way faster than I ran this marathon.
3. No matter how hard things get, it's possible to push through. I am stronger than I think.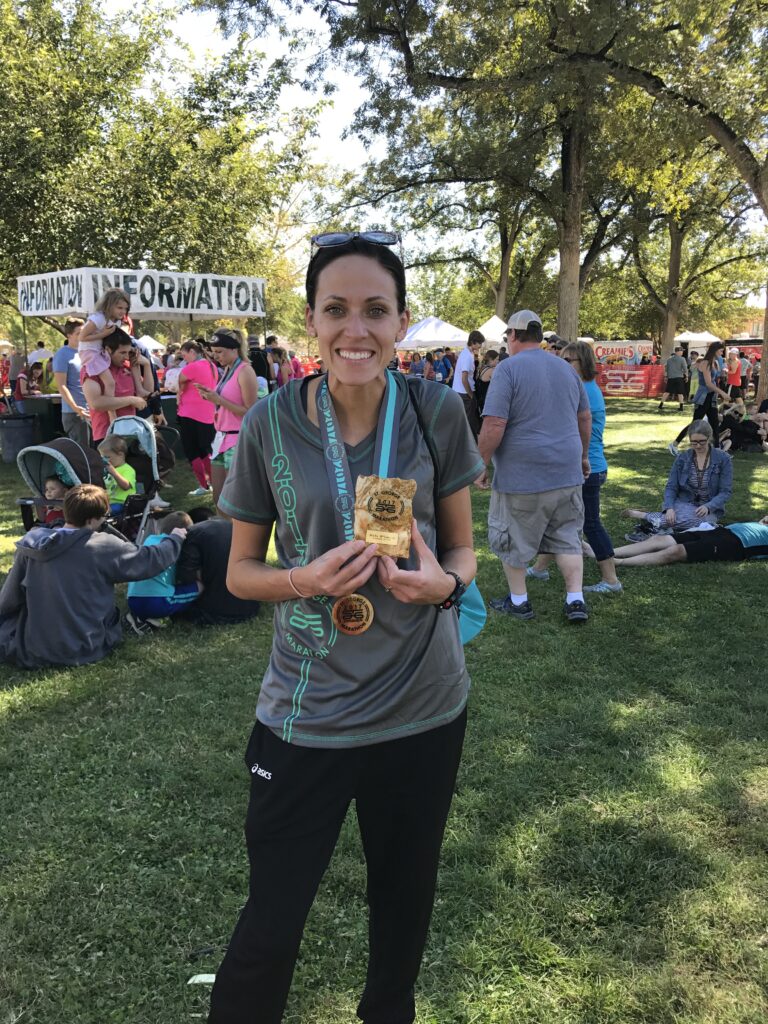 Marathon 5- St. George Marathon 2017
Details: One month after Pocatello. I wanted redemption and a faster qualifying time for Boston. My training was so much stronger than when I broke 3 hours the first time- that should be easy right? Well no. I felt flat. It was forced. Then something weird happened- I got stung by a wasp on the back of my leg. What??
Goal: sub 3
Time: 3:10:18
What I learned-
1. It's possible to get stung by a wasp while running sub 7 minute pace.
2. Just because you've done something before, doesn't mean it will come easy the next time.
3. Running marathons back to back a month apart might not be a great idea.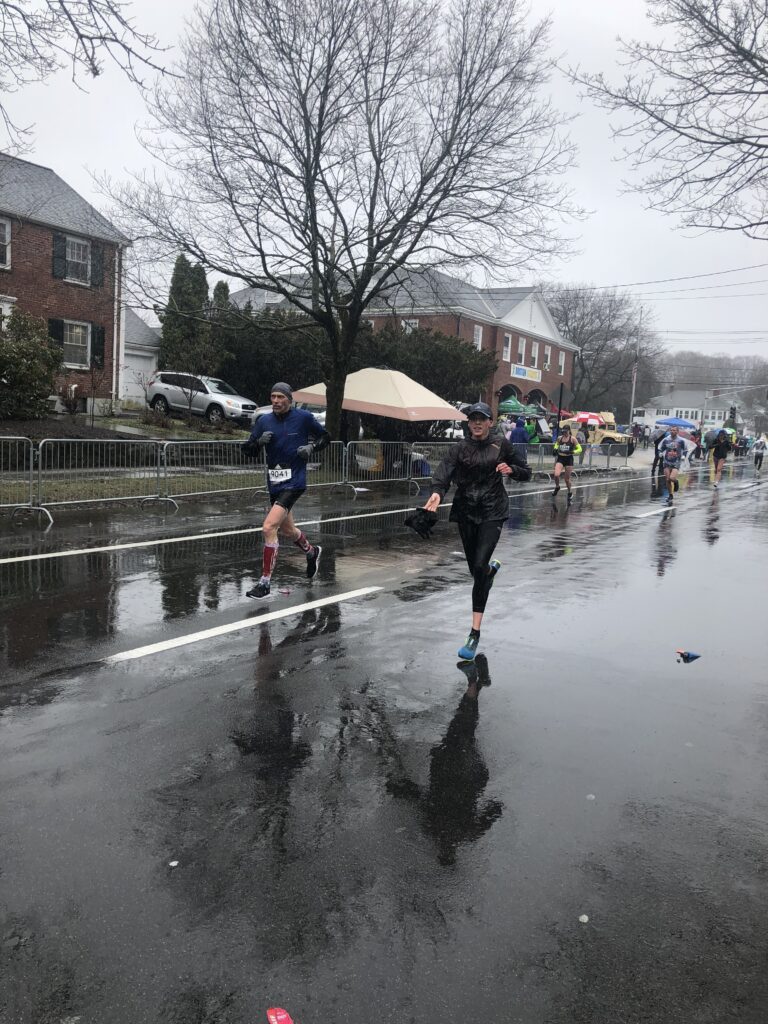 Marathon 6- Boston 2018
Details- the legendary weather of pouring rain, cold temps and a 15-25 MPH headwind with gusts up to 45. Went out in a sub 3. Crashed hard- couldn't talk at the finish. Wheeled into the med tent.
Goal: sub 3
Time: 3:16:42
What I learned-
1. Adjust your goals according to weather! Just do it! No matter how hard you've prepared.
2. Do not ditch any items of clothing even if they are soaking wet. Having soaking wet gloves is much better than not having gloves at all.
3. It is possible to be so cold that you have to ask spectators to pull fuel out of your pocket for you because your fingers don't work.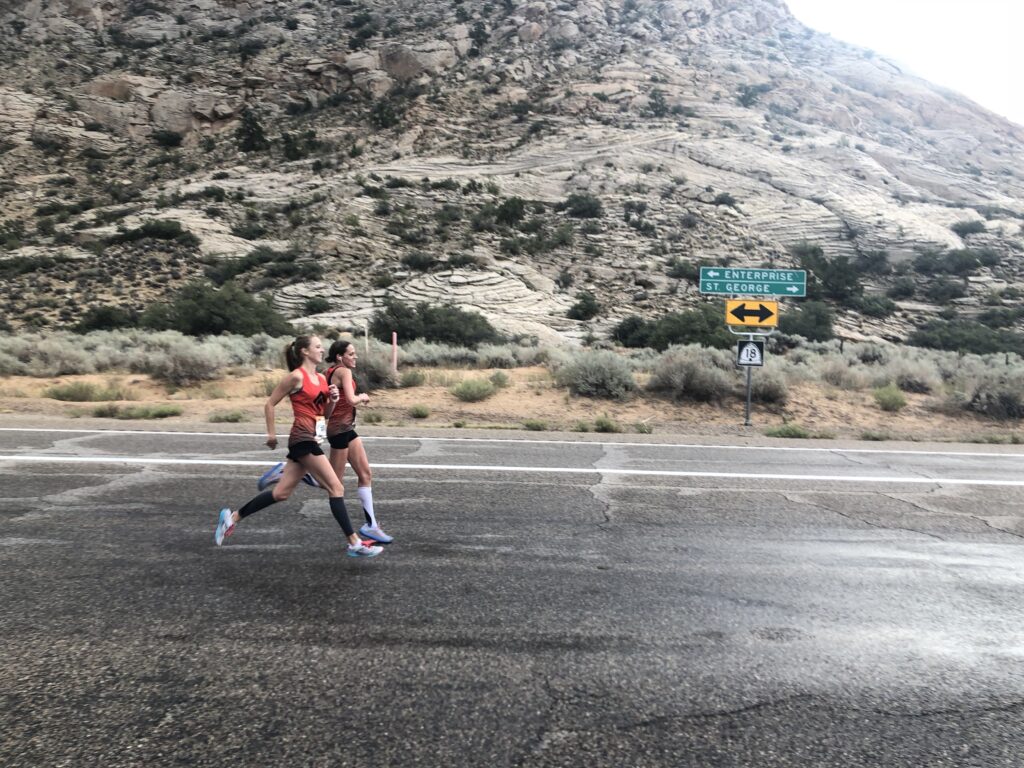 Marathon 7- St. George Marathon 2018
Details- training was solid. All the indicators of a sub 2:50 performance were there. The only problem was leg pain on the warm up. Ditched the gloves around 8. 1:26 at the halfway. Cold. Gave it everything, but slipped from top 5 to 11th over the final miles. Heartbreaker.
Goal: Sub 2:50, top 10.
Time: 2:55:17, 11th
What I learned-
1. Climbing feels warmer than dropping. Once again, don't ditch the gloves or arm warmers early.
2. Even though I felt I could run faster, it was still a PR. Celebrate the PRs, even if they are not what you wanted.
3. Enjoy the training. Race here and there along the way. Then when the race doesn't go how you want, it doesn't feel like a waste.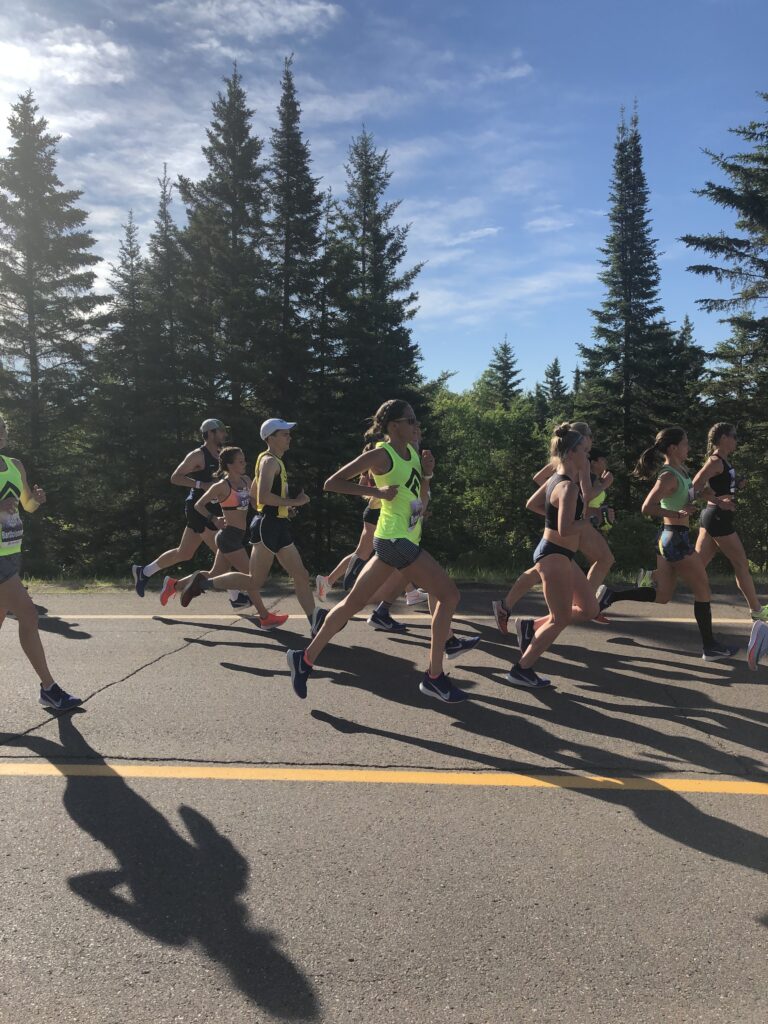 Marathon 8- Grandma's Marathon 2019
Details: Race recap HERE. Short and skinny- felt I was ready even with some bumps and injury in the training. Went out a little fast. Hit the halfway at 1:21. Course was more rolling than expected. Shut down, but still fought the demons for a sub 3.
Goal: Sub 2:45 – OTQ
Time: 2:59:03 – far cry
What I learned-
1. You can be in 2:47 shape and run 2:59 by trying to run 2:43. I think that's about where I was at.
2. Respect the marathon.
3. Don't ever give up. Even if you've had one bad race after another. With the hard marathons have come multiple Half Marathon and 10k PRs. Even a post college 5k PR. Enjoy the journey and the fight and there will be glimmers along the way.